28/02/16 00:01
£2 million for Community Choices Fund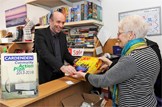 People to have their say on how money is spent.
A programme which is giving people the power to make decisions directly on spending in their areas will be rolled out to even more communities through a new £2 million investment.
The new Community Choices Fund aims to build on the £500,000 invested in participatory budgeting projects in 14 local authority areas in 2015-16 and the further initiatives already taking place across another six areas.
By increasing investment to £2 million over the next financial year the Fund will support this work to step up – and open up opportunities for other public bodies and community groups to organise Community Choices events too. Funding will be prioritised at work in deprived areas.
Community Empowerment Minister Marco Biagi announced details of the Community Choices Fund on a visit to the Cardenden Community Development Forum in Fife. The Forum organised an event in 2013 and through this engagement launched its community-run charity shop earlier this year.
He said:
"By creating this new Community Choices Fund and increasing our investment to £2 million we are putting our money where our mouth is on community empowerment.
"Every community in Scotland has different needs and challenges. We want to see more decision-making handed to local people – especially in choosing local spending priorities. The roll out of our pilot project will massively expand opportunities for councils, communities and public bodies to get people involved.
"Communities that suffer disadvantage do so in part because they are marginalised. Giving people a chance to participate means better decisions but also shows people what they can do. To truly tackle inequalities we need to empower the disempowered.
"Cardenden Community Development Forum was an early trailblazer of this approach. It's now gathering momentum across Scotland with over 50 events giving people a direct say on budgets expected to take place in 2016, more than double the number organised over the last few years. We now want this fund to support a new wave of Community Choices events up and down the country."
The 50 projects which are being organised as part of the 2015-16 pilot range from initiatives to allocate money at grassroots level in local community areas, to thematic work such as projects that are giving carers a voice in shaping local services.
The Cardenden Community Development Forum's event has been the catalyst for change in the area and they now have their own community minibus, have refurbished the local bowling club and purchased new equipment for activities for a disability group.
Vi Penman, treasurer of Cardenden Community Forum said:
"This is great news for local communities, and I hope it brings them the sort of benefits we have enjoyed.
"We have gone from strength to strength since The Coalfields Regeneration Trust helped us draw up our community action plan, and introduced us to participatory budgeting through their Coalfields Community Futures Programme.
"We started the Forum to ensure that we delivered the action plan but now it has developed a life of its own by involving local people in delivering all sorts of benefits from a bereavement service to the Community Shop and next year we hope to start refurbishing derelict properties in the village."

Leader of Fife Council David Ross said:

"In Fife, we are strengthening and developing the ways we engage with and empower local communities with efforts to increase knowledge and practical application of participatory budgeting (PB).

"A seminar was held in November 2015 to explore what PB has to offer and to learn from others. Efforts are underway to further develop PB approaches in Fife and develop community action plans with new initiatives coming on stream in the near future.

"We are continuing to work with the Coalfields Regeneration Trust as partners in developing our approach."
Notes to editors
More information about participatory budgeting is available at: http://pbscotland.scot
Further details of the application process will be announced in due course.
Projects already operating in this way include Leith Decides, http://www.edinburghnp.org.uk/ and Coalfields Regeneration Trust http://www.coalfields-regen.org.uk/
There are 20 local authorities now engaging in participatory budgeting in Scotland. They are: Aberdeen City, Aberdeenshire, Angus, Argyll and Bute, East Ayrshire, North Ayrshire, South Ayrshire, Edinburgh, Fife, Glasgow, Highlands, Midlothian, Moray, Orkney, Perth and Kinross, Shetlands, South Lanarkshire, West Dunbartonshire, West Lothian and the Western Isles.