27/01/14 11:31
£200,000 grant to support WGM Engineering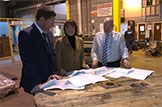 Workforce to increase to 168
Angela Constance, Minister for Youth Employment, today announced the creation of 35 new jobs at engineering manufacturing company WGM Engineering Ltd in Livingston.
The investment by the company to expand its workforce has been enhanced through £200,000 in Regional Selective Assistance (RSA), awarded through Scottish Enterprise.
The investment will bring the total number of jobs, split between the Livingston and Govan site, to 168.
WGM Engineering Ltd is a leading engineering solutions company working with a range of companies from water and waste sector to petro chemical and power generation throughout the UK and abroad.
The company has significantly expanded their facilities in Livingston to accommodate growth in the business and oil and gas sector. This is a testament to the quality and skills of the local workforce. Scotland's energy sector boasts strong engineering and manufacturing skills that are globally recognised across the oil and gas industry.
Making the announcement, Ms Constance said:
"WGM has committed to creating a further 35 jobs which will support their future expansion and as a result will bring a substantial boost to the local economy.
"This company has a long history of working in Scotland and developing their business model to adapt to customer wants and demands. They already have a highly skilled workforce but looking towards their future and are ready to take the next step. This funding will help secure this future.
"RSA supports investment in Scotland's economy and creates jobs for our people. It further strengthens Scotland's position in out-performing the UK for securing inward investment. The investment made by the company has been enhanced by £200,000 in RSA through Scottish Enterprise.
"The Scottish Government, our agencies and employers across Scotland have set a clear course for recovery. We are working hard to get people back into work and to create opportunities for all of Scotland's people.
"We will continue to work with Scottish Enterprise and other partners to maintain and build sustainable economic growth in Scotland
"The First Minister recently announced that Scotland is on track for a strong year in 2014 in terms of jobs created and safeguarded through RSA assistance, having already exceeded the figure achieved for the previous financial year.
"This is yet another indication of the strong performance in the Scottish economy, which can only be enhanced by the powerful economic levers available to us through independence, which would be used to attract even more jobs and investment."
Lena Wilson, Chief Executive, Scottish Enterprise, said:
"WGM Engineering's decision to invest in its Livingston facility and expand its capabilities reinforces the significant business growth opportunities available in Scotland's oil and gas supply chain. We are pleased to support the company's expansion plans through Regional Selective Assistance support and look forward to seeing the company go from strength to strength as it develops its presence in the oil and gas industry."
Ian Mathieson, managing director at WGM Engineering said:
"We are investing heavily in our facilities and our workforce because we recognise that our primary market in the oil and gas sector is forecast to grow strongly over the next few years, both in the UK and overseas. This new investment and expansion will help ensure WGM Engineering has the capacity to capture a share of that growth."


Notes to editors
Payment of RSA is made in instalments, typically over several years as job and capital expenditure targets are met. Not all projects will proceed, and nor do all accepted offers result in full payment, as projects are sometimes scaled down or abandoned before payments are made. The figures quoted represent the maximum grant potentially payable if the project is satisfactorily completed, and not the amount actually paid to date. All job numbers are firms' forecast figures, and are subject to change depending on future economic conditions and other factors affecting the businesses concerned.