16/10/13 00:01
A helping hand at home and abroad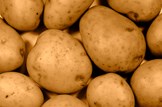 Sustainability in focus on World Food Day.
Farmers at home and abroad are benefitting through support from the Scottish Government to safeguard the future supply of food.
To mark World Food Day, Scotland's Rural Affairs Secretary Richard Lochhead was highlighting the Government's work in this hugely important area.
World Food Day this year focuses on sustainable food systems in relation to food security and nutrition. The overall objectives include heightening awareness of agricultural food production and encouraging economic and technical cooperation with developing countries.
And as well as investing money in food security projects at home, the Scottish Government also funds projects abroad through the Malawi, South Asia and Sub-Saharan Africa Development Programmes.
Mr Lochhead said:
"The issue of food security is high on the political agenda due to a growing population, depleting resources and our changing climate.
"Farmers all over the world, from Barra to Bangladesh, are having to deal with the extreme and unusual weather patterns we have been experiencing. Last year, Scotland's farmers suffered one of the wettest summers on record that, combined with the extreme wintry conditions early this year, impacted both on crops and livestock
"Farmers in Malawi, Zambia and Bangladesh are also experiencing extreme weather related problems, but often with much more severe impacts and direct implications for hunger and malnutrition. The destruction of land by severe flooding and cyclones in Bangladesh, most recently by Cyclone Mahasen, illustrates the food security challenge countries in Africa and South-East Asia face.
"And Scotland can assist countries to increase long term food security. We can use our experiences at home to help provide answers to some of the problems faced elsewhere in the world. We are keen to share our knowledge.
"We all must make the best use of our natural resources in a sustainable manner, apply high quality science and have farmers equipped with the right skills and tools, to improve the resilience of food supply systems that meet people's needs in terms of nutritional quality.
"The Scottish Government funds agriculture-related international development projects, such as advice on beef and potato production in Malawi and on livestock disease and parasites in India. In addition, we spend around £40 million per year on food security related research and knowledge exchange.
"Food security is a global issue. Production should never be taken for granted and the move to resilient, sustainable systems is key. It is important that every country looks at what it can do to contribute to increasing food security around the world."