08/11/13 10:49
Agricultural Holdings Legislation Review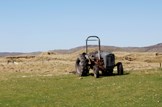 Review Group membership, remit and timescale confirmed.
Six members have been appointed to the expert group that will advise the Scottish Government's Review of Agricultural Holdings Legislation.
The review - led by Rural Affairs Secretary Richard Lochhead - aims to determine what policy and legislative changes may be required to deliver a sustainable Scottish tenant farming sector that is dynamic, gets the best from the land and the people farming it and provides opportunities for new entrants.
An interim report is expected in June 2014 which will include an update on considerations of Absolute Right to Buy. That will be followed by a final report, in December 2014, which will contain recommendations for the Scottish Government including proposals for any required legislative and fiscal changes.
The Review Group members are:
Sir Crispin Agnew of Lochnaw QC, who has a specialised practice in rural property law and regularly appears in the Scottish Land Court, the Lands Tribunal for Scotland and on appeal in the Court of Session.
Professor Jeff Maxwell OBE, currently an advisor to the Land Reform Review Group. Formerly a member of the Forestry Commission Scotland Woodland Expansion Advisory Group, a Director of Macaulay Land Use Research Institute and Chairman of the Tenant Farming Forum.
Barbara Brown, Principal Clerk of the Scottish Land Court since September 2009 and a qualified solicitor on secondment from the Scottish Government.
Iain Mackay is a member of the Scottish Government's New Entrant Panel and farms, under a short-term tenancy, an extensive hill farm at Torloisk on the Isle of Mull which last year became the Quality Meat Scotland Monitor Farm for the area.
Hamish Lean, a partner in Stronachs law firm and specialist in agricultural law.
Andrew Thin, Chairman of Scottish Natural Heritage, Board Member of Children's Hearings Scotland and a Non-Executive Director in the Scottish Government.
Mr Lochhead said:
"To ensure opportunities for future generations to produce our food, ensure productive and sustainable land use and to support our rural economy, Scotland needs a vibrant and healthy tenant farming sector at the heart of Scottish agriculture and Scottish life.
"That is why our vision, set out in the Review's remit, is to have a Scottish tenant farming sector that is dynamic, gets the best from the land and the people farming it and provides opportunities for new entrants, forming part of a sustainable future for Scottish farming.
"The sector currently faces challenges with a decline in tenancies and ongoing issues surrounding tenant and landlord relationships.
"The issues may be complex but with the amount of agricultural land rented and the number of tenanted farms both at an all-time low, the Scottish Government stands ready to act.
"Many tenant farmers have made the case that current tenure arrangements stifle on-farm investment. The status quo neither gets the best out of the farming community nor our valuable land, so the case is clear for reform.
"This review fulfils a pledge and is an opportunity to breathe new life into the sector, to set a clear direction for the future, to create a better understanding between landlords and tenants, and to increase opportunities for tenant farmers and new entrants to gain access to tenanted agricultural land.
"Some people say that such reviews cause uncertainty. Even though I don't buy all of the claims made, a few months' uncertainty is surely better than decades of further decline for tenant farming.
"The members I have appointed to the Review Group to advise me blend expertise, experience and enthusiasm. We will call on advice from elsewhere as and when required. We will of course be regularly speaking to stakeholders and will issue a paper to seek views in the near future.
"Over the next year we will examine the impact of current policies, legislation, funding and industry-led initiatives on the tenant farming and new entrant sector, and consider what changes may be required to encourage succession and the letting of land.
"To take the sector to a better future, we must address the past and the present, so it is therefore only right and proper that the review also considers the case for the Absolute Right to Buy for farm tenancies. This subject not only affects existing tenants but the diversity of land ownership and the wider economy in Scotland.
"I have already confirmed that this consideration will be limited to traditional secure 1991 agricultural tenancies and it is important that we give all tenant farmers and stakeholders the opportunity to enter into full and frank dialogue about this issue.
"I am the first to recognise that this is a hugely complex, often very contentious, but always very important area of policy. So it's important we all remain focussed on the best outcomes for tenant farming and tenant farmers in Scotland."