15/12/13 00:01
Best ever school destinations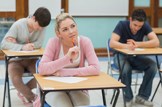 91.4 per cent of leavers heading to college, university, training and jobs.
New figures show that the proportion of school leavers in a positive initial destination reached 91.4 per cent in October 2013, the highest level on record.
This compares to last year's figure of 89.9 per cent and the 2011/12 figure for those young people in positive destinations approximately nine months after leaving school, which stood at 89.5 per cent.
The figures have been produced by Skills Development Scotland and will inform work to support those who haven't yet found employment or a place in training, college or university.
Education Minister Michael Russell said:
"In June I was delighted to find the proportion of 2011/12 school leavers staying in positive destinations had increased to 89.5 per cent from 87.2 per cent the previous year. The new figure for positive initial destinations for 2012/13 school leavers gives me further confidence that we are producing a generation of young Scots capable of great success, whatever they move on to. Over the summer we also saw Scotland's best ever exam pass rates and earlier this month the OECD rated Scotland as doing at least as well as, if not better than, a number of leading world economies in literacy, numeracy and science.
"There is clear evidence that Scottish education is good but we want it to be even better. Under Curriculum for Excellence, we have evidence of high standards of achievement in primary schools and I am confident that we will see continued progress in future years. The OECD has also shown that Scotland is beginning to tackle the attainment gap, but I want to ensure that every young person in Scotland to have the best opportunity to succeed in learning, life and work. Support has been put in place to help our teachers do this and in years to come I hope to see Scotland's already excellent reputation for education enhanced still further."
Minister for Youth Employment Angela Constance added:
"The Scottish Government is committed to supporting our young people into employment and are funding a wide range of initiatives to aid employability including 25,000 Modern Apprenticeships every year and Opportunities for All, our unique guarantee of the offer of a place in education or training for all 16 to 19 years olds. What's today's publication shows is that young people are also doing their very best to support themselves. They know already that more education and training will give them the best possible chance of securing sustainable employment for the future, and for those who aren't able to move straight on to a positive destination, including employment, help is available."