02/02/15 00:01
Boost for campaign to improve patient experience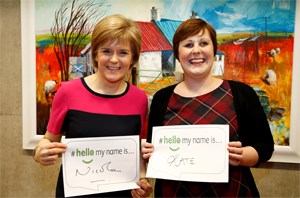 Scottish Government supports #HelloMyNameIs campaign.
A campaign to improve staff and patient relationships is to receive a £40,000 boost from the Scottish Government.
Health Secretary Shona Robison has announced that the money will be allocated to NHS boards to roll out the #HelloMyNameIs campaign across Scotland.
This money will allow NHS Boards to use learning from the #HelloMyNameIs work and build this into their improvement support for person-centred care.
The campaign was created by Dr Kate Granger, a hospital consultant from Yorkshire who, after spending some time in hospital herself, became frustrated when staff failed to introduce themselves to her. A simple introduction, Kate says, is "the first rung on the ladder of compassionate care".
Health Secretary Shona Robison, Public Health Minister Maureen Watt and Minister for Sport, Health Improvement and Mental Health Jamie Hepburn, met with Dr Kate Granger and her husband on Thursday at the Scottish Parliament to hear about plans to extend her campaign.
Dr Granger also met with Scotland's First Minister, Nicola Sturgeon, on Thursday.
In Scotland, health boards have already begun putting the initiative into action. The additional money from the Scottish Government will be made available to support health boards to further engage with the campaign.
Health Secretary Shona Robison said: "This is a small, but important step in showing our commitment to putting patients at the heart of NHS Scotland".
"I met with Kate on Thursday, a truly inspiring woman with a clear determination to continuously improve frontline services across the NHS. In Scotland, we share that determination and I am happy that we are supporting such a worthwhile campaign".
Dr Granger said that: "We're very excited to be bringing #HelloMyNameIs to Scotland and to have the chance to discuss person-centred healthcare, particularly in the context of end of life care, at the Scottish Parliament. Edinburgh is a special place to both my husband and I, as I spent six years studying at university here."
"Our campaign to improve communication between healthcare workers and patients is built on the simple premise that an effective therapeutic relationship starts with an introduction. It has now gone truly global and is spreading rapidly across the NHS as a powerful way of changing culture in organisations, all based upon my narrative as a patient. We're incredibly proud of everything that's been achieved and I will keep working hard for as long as I am able. I hope my legacy will be an NHS that celebrates getting the basics of care right every time and always recognising the person behind the disease."
Notes to editors
Examples of how initiative is being adopted by NHS Scotland:

Nurses across the board in NHS Dumfries and Galloway also now wear the campaign name badges and the board are looking to extend this further.
NHS Borders intend to produce a short DVD by the end of March 2015, which will include staff introducing themselves, this will then be used as part of their corporate induction programme.
NHS Greater Glasgow and Clyde have adopted #HelloMyNameIs badges for a small number of clinical teams which has been met with a positive reception from patients and relatives.
Delivering person-centred care is a strategic priority for NHS Scotland and the Scottish Government. Working in partnership with people, carers and families to deliver care which meets their needs is a vital part of our 2020 Vision for Health and Social Care.
Further information is available about Dr Granger's campaign at http://hellomynameis.org.uk/home and on Twitter #hellomynameis
Photos of Dr Kate Granger's meeting with the First Minister are available to download on the Scottish Government Flickr channel: https://www.flickr.com/photos/firstministerofscotland