17/01/14 12:22
Celebrate Oor Rabbie with a Burns Night to remember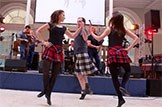 Variety of activities planned to honour Scotland's national bard
The Scottish Government will be funding five exciting events across Scotland to celebrate Burns Night as part of the Scottish Winter Festival programme.
Capturing the very essence of Scotland and the nation's beloved bard, the programme of events will include:
Big Burns Supper, 24-26 January - Dumfries
Scottish Storytelling Centre, variety of events until 25 January - Edinburgh
Robert Burns Humanitarian Award, 25 January - Burns Museum, Alloway
Burns Life of the Poet, 25 January - Eden Court, Inverness
Burns Unbound – NMS Museum of Rural Life, 25-26 January - East Kilbride
Across Scotland and around the world, Burns Night brings together Scots and Scots at heart to celebrate the life and works of Robert Burns and Scottish culture. Robert Burns may have been Scottish, but the celebrations are held on an international level, with Burns suppers, ceilidh dancing, poetry and storytelling held annually, demonstrating the world's affection for Scotland's loved poet.
From Estonia to Tanzania, America to Australia, Brussels to Beijing and Barcelona to Prague – some of the events taking place this year include:
Burns Supper in Taillinn run by the Estonian Scottish Culture Society
Burns Night Ceilidh at International School Moshi, Arusha Campus in Tanzania
Burns in Barcelona concert with City of Barcelona Pipe Band at the Galician Centre, Las Ramblas, Barcelona, Spain
Burns Supper Beijing run by Beijing Scottish Society
There are also no fewer than twenty four events planned across America at various Burns societies including New York and California.
Fiona Hyslop, Cabinet Secretary for Culture and External Affairs said:
"Burns Night is the perfect opportunity to celebrate our Scottish identity including our creativity, pride and confidence. Robert Burns encapsulates this and that's why we come together to honour this great Scot with friends, family and loved ones on January 25.
"Whether you attend one of these exciting events, prepare your own Burns Night celebrations or simply log onto our Burns online portal to learn a bit more about why his works continue to resonate within modern society, we are encouraging everyone who feels an affinity to Scotland - both at home and abroad - to take time to honour the life of an extraordinary man."
For more information on how you can celebrate Burns Night, visit www.scotland.org/burns
To take part in some of the interactive online apps, visit:

http://www.scotland.org/celebrate-scotland/burns-night/address-to-a-haggis

http://www.scotland.org/celebrate-scotland/recipes/collection/the-alternate-burns-supper
http://www.scotland.org/quizzes/burns-audio-quiz
Notes to editors
Scotland's Winter Festivals
Scotland is a year round destination for visitors, welcoming over 15 million people to our shores. St Andrew's Day, Christmas, Hogmanay and Burns Night offer another reason to come and celebrate either with us here in Scotland or around the world.
Burns Night
Burns, our national bard, is one of Scotland's favourite icons encapsulating the very essence that makes Scots Scottish – creative, proud and confident.
Robert Burns, or 'Rabbie' as he is affectionately known, was born in Alloway, South Ayrshire, in 1732. He began writing poetry and songs at an early age and became famous across Scotland for his writings.

After his death at the age of just 37, Rabbie's works became internationally renowned and to this day, people from all corners of the world sing 'Auld Lang Syne' to bring in the New Year.
Every year on Burns' birthday, 25 January, Scots and Scots at heart from across the globe celebrate his life in a variety of traditional ways, including addressing the haggis, toasting the lassies and a reciting of the Selkirk Grace.More information about how to celebrate Burns' Day and the life of the Bard himself can be found at www.scotland.org/burns

For those who are unable to attend one of the events at home or abroad, there is a great range of fun and interactive information available online to help celebrate Burns Night. From a historical timeline of Rabbie's life, information about his literary works and traditional food recipes for the event - to fun interactive apps allowing users to upload their own takes on some of his most famous poems.

To celebrate the fact that there are more Burns statues in the world than almost any other non-religious icon, users are also being encouraged to take a 'Burnsie' (selfie) from their home town and post on the facebook and twitter pages.
EventScotland funded events - part of the Scotland's Winter Festival Programme
Big Burns Supper
24-26 January 2014
http://2014.bigburnssupper.com/
Live from Dumfries, the home of the World's Biggest Burns Night Celebration – presenting a light inspired carnival parade, featuring a cast of over 2,000 as they reignite the spirit of Homecoming in the Southern Capital on Burns Night through a massive creative performance project including an original soundtrack, giant puppetry and a host of colourful characters who are all looking to get home in time for the parade. The World's Biggest Burns Supper will be a region-wide public engagement project that will draw on communities throughout Dumfries & Galloway to create a platform for increased visitor growth and celebration, leading to the Biggest Burns Night Celebration in the World.
Two signature events will help create a celebration that will put Dumfries firmly on the map, as the first destination for Burns Night in the World – providing the region with a legacy that will continue after the event cycle
Scottish Storytelling Centre
30 Nov - 25 Jan 2013/14
http://www.tracscotland.org/scottish-storytelling-centre/centre-events
This will be a fun, family friendly series of events that will promote Scotland's rich history in a modern and unique manner.
Explore Robert Burns' master narrative and learn how to recite Tam O' Shanter, join Linten Adie and friends from the Scots Music Group for an afternoon of songs and music to celebrate Robert Burns, be inspired and entertained in a fun, interactive afternoon of storytelling or enjoy a Burns Supper in the beautiful setting of the Storytelling Café, hosted by storytellers David Campbell and Linda Bandelier, with clarsach player Katie Harrigan. There are a wide range of events taking place throughout the weekend for Scots and Scots at heart to enjoy.
Robert Burns Humanitarian Award
25 Jan 2014
http://www.south-ayrshire.gov.uk/burnsaward/
This prestigious international Award is presented annually to an individual or group who has saved, improved or enriched the lives of others or society as a whole, through personal self-sacrifice, selfless service, 'hands on' charitable/volunteer work, or other acts. Winners receive the equivalent of 1759 guineas – a sum which signifies the year of the Bard's birth and the coinage then in circulation – as well as a specially commissioned hand-crafted award.
Burns Life of the Poet
25 January 2014
Join us on the 25 January 2014 as we kick the evening off in the city centre with our hilarious Haggis Highland Games and then accompany us on our procession through the streets of the city centre, across the river and over to Eden Court. As soon as we arrive there will be an eye-catching outdoor projection display, plus all around the building bite-sized drama performances based around key moments in the Bard's life will take place. The icing on the cake will be a traditional Ceilidh in the OneTouch Theatre (we'll even teach you a few standard dances like Strip the Willow and The Dashing White Sergeant)
Burns Unbound - Museum of Rural Life
25-26 Jan 2014
http://www.nms.ac.uk/our_museums/museum_of_rural_life/whats_on/burns_unbound.aspx
Join us at the National Museum of Rural Life for a celebration of the works of Robert Burns and the Scottish traditions associated with this time of year. Enjoy a packed programme featuring family craft activities, costumed characters, gallery trails, music, storytelling, theatre, and food and drink themed around some of the national bard's most famous works. You can also explore our 1950s working farm, Georgian farmhouse and award-winning museum, open all day. Burns Unbound! We are proud to be part of the celebrations for Homecoming Scotland 2014. Spread the word and join our celebrations!
Scottish Government Financial contribution
| | | | |
| --- | --- | --- | --- |
| Big Burns Supper | Big Burns Supper Ltd | Dumfries and Galloway | £33,000 |
| Scottish Storytelling Centre* | Scottish Storytelling Centre | Edinburgh | £5,000 |
| Burns Unbound 2 | NMS | Edinburgh & South Lanarkshire | £3,500 |
| Robert Burns Humanitarian Award | South Ayrshire Council | South Ayrshire | £10,000 |
| Burns Life of the Poet | Eden Court | Highlands | £10,000 |