09/09/13 13:00
Chefs@School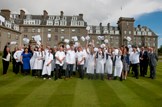 Cooking pros offer special lessons for the classroom.
Pupils across Scotland will be cooking up a storm with some of the country's top chefs as part of a new initiative to enhance food education.
The Chefs@School: Inspiring Food Education project was launched by Rural Affairs Secretary Richard Lochhead at the Gleneagles Hotel, with the backing of Michelin-starred chef Andrew Fairlie.
Professional chefs and cooks will be linked to schools where they will run workshops that cover food provenance and the importance of healthy diet, as well as discussing career opportunities in the food, drink and hospitality industry.
The £100,000 scheme is designed around the principles of Curriculum for Excellence with teachers able to access support materials to personalise lessons for their class.
The project will be managed by the Federation of Chefs Scotland and aims initially to engage with at least 15,000 pupils.
Mr Lochhead said:
"Scotland is famous for its high quality produce and the industry is one of the country's main economic drivers. There is much more room for growth and it's important that we look at nurturing the next generation to continue the success we've had.
"The food and drink industry is much wider than simply the fantastic products Scotland has and that's why we need to ensure our young people appreciate all that it does.
"We are also lucky to be home to some of the world's top chefs, such as Andrew Fairlie. They are highly skilled and motivated, fantastic role models and their enthusiasm will inspire our young people.
"That's why we're investing in projects like Chefs@School to teach our children about our food's journey from farm to fork as well as stressing the number of career opportunities available within the sector."
Andrew Fairlie, Scotland's only two Michelin starred chef, is supporting the project and said:
"I am absolutely delighted to see the Chefs@School project get off the ground and it's fantastic to see so many great chefs from all around Scotland so keen to become involved. This is something that schools have been crying out for, for a long time now.
"It's a great opportunity for chefs to engage with children, not only on the importance of healthy eating, but the pleasure of preparing and eating fresh food. My hope is that it we will provide an attractive, fascinating and fun subject incorporated into the school curriculum.
"If this in turn inspires more children to consider a career in hospitality then the time invested by chefs will be very well spent. To this end I would encourage as many chefs as possible to sign up for this really exciting opportunity to promote our industry."

Suzanne Hargreaves from Education Scotland said:

"Education Scotland is pleased to be part of the team behind Chefs@School: Inspiring Food Education. The Chefs@School scheme will allow chefs and cooks to add value to Curriculum for Excellence and accelerate the evolution of food culture change taking place in Scotland. Outcomes for learners will included enhanced skills in cooking with fresh, local produce, engaging with Chefs acting as role models will demonstrate vocational pathways and a depth of understanding around seasonal produce and can being able to apply that knowledge and understanding about seasonality to source, create and make nutritionally balanced meals."
Notes to editors
Schools and chefs can register their interest on the Chefs@School website: www.chefsatschool.org
Schools will be made aware of the initiative through emails, newsletters, education networks, social media and the Glow website.
The Federation of Chefs and Education Scotland have been working collaboratively to create stimulating resources to help schools and chefs find a consistent language around food education. The resources will have a technologies and health and wellbeing focus providing learning activities offer which opportunities for learners to develop an understanding of problem solving strategies and the application of food safety principles in a practical food context. Learners will be given the opportunity to develop their creativity, knowledge and skills through a selection of activity experiences related to Scottish produce.