20/01/16 09:00
Chief Medical Officer's Annual Report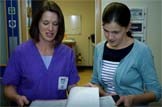 Call for debate on 'realistic medicine'.
Scotland's Chief Medical Officer has used her first annual report to call for a debate among doctors on the subject of realistic medicine.
Dr Catherine Calderwood is encouraging medics to further involve and discuss with their patients what is important for them as individuals – which may be deciding not to have treatment. She asks doctors to question variation in practice and outcomes, to reduce waste and encourages innovative ideas and research to improve medicine for the future.
She writes that increases in available medicines and treatments and public pressure and expectations, combined with greater numbers of people living longer with multiple conditions, can sometimes lead to over-treatment which is of little long-term benefit to the patient. She calls for greater transparency in decision making.
Dr Calderwood, an obstetrician and gynaecologist, will launch the report this morning at Edinburgh's Western General Hospital. She will meet doctors to discuss the report, as she kicks off a conversation with the medical profession about how they see the future of the health service.
The report also carries a summary of data on the health of the nation, featuring previously published statistics about indicators such as obesity, cancer mortality and smoking rates.
Dr Calderwood said:
"Doctors are doing a tremendous job up and down the country, serving their patients with distinction, and learning to adapt in the face of the changing demands being put on the health service. It's vital that medicine constantly evolves, and the challenge to us as doctors is to ask ourselves how we can change our own working practices to create even better outcomes for patients.
"In striving to provide relief from discomfort, illness and death, modern medicine can sometimes over-reach itself and provide treatment that is of little long-term benefit to the patient. This is especially true when a person has multiple conditions, each of which has its own list of recommended medicines and treatments.
"Realistic medicine is about moving away from the 'doctor knows best' culture. It's about more fully involving patients in the decisions about their care. Of course this will only happen if people are prepared to have these conversations in this way with their doctors.
"It's an interesting fact that doctors tend to choose fewer treatments for themselves than they offer to their patients. As doctors we should be asking why that is, and whether patients – if better informed – might also choose less intensive and less medicated treatment regimes. A person may achieve a greater quality of their life if less is done - fewer treatments, more targeted medication.
"Doctors and other health care professionals are experts in our NHS – in these challenging times I want to hear from them how we can best practice medicine in NHS Scotland and beyond- how to innovate, ask questions about variation in practice and outcomes, reduce waste and act differently to improve care.
"I will be speaking to doctors over the next few months to ask them what they think about these issues in our rapidly evolving health service. I hope to engage the profession in a dialogue about where we are going, and what role doctors can play in shaping the future of the NHS."
Background:
Realistic Medicine, the Chief Medical Officer's Annual Report 2014-15 can be read in full here: http://www.gov.scot/Publications/2016/01/3745
An Executive Summary is available at http://www.gov.scot/Publications/2016/01/2744
Additional quotes:
Professor Derek Bell, President of the Royal College of Physicians of Edinburgh, said:
"We are supportive of the direction of travel of Dr Calderwood's report and welcome the exploration of the challenges in 'Realistic Medicine'. We particularly endorse the proposals to avoid overtreatment and excessive prescribing, while increasing attempts to support individual and population lifestyle changes.
"The College is committed to playing its part in contributing to these lifestyle changes through its 'Health and Wellbeing' work stream, which is promoting issues such as increasing physical activity, reducing alcohol consumption and tobacco use, and preventing obesity.
"I am pleased to see the role of medical trainees being recognised as central to addressing the future challenges of the NHS. It is essential we continue to deliver high quality undergraduate training to attract more medical students and ensure they make the transition to post graduate careers in Scotland. Also key to this is ensuring that doctors at all levels in the profession are valued and recognised for the work that they do in delivering excellent patient care.
"The NHS is continually evolving and we welcome the recognition that at a time of increased pressures in the NHS, we need to work together across disciplines, with our partners in social and community care, and with our patients and their families to best meet the changing needs of our patients."
Dr Brian Robson, Executive Clinical Director from Healthcare Improvement Scotland said:
"With her inaugural CMO report, Dr Calderwood has given us an insightful summary of the wonderful opportunities and significant challenges that 21st century medicine brings. She is clear on the changing role of doctors in a complex world where patients and families are at the centre of their own care, supported by doctors. This is a 'must read' for doctors, and others, and clearly sets out the new attitudes, skills and behaviours required of doctors and the energy and encouragement 'from the top' to make change happen where it must happen – where doctors and patients or families come together."