01/01/14 00:01
Creating a buzz on Colonsay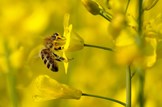 Landmark reserve to provide protection for native black bees.
Scotland's native black bee is now protected thanks to the creation of the first reserve of its kind in the UK.
The black bee (Apis mellifera mellifera) is thought to be the only native honey bee in Scotland and the new legislation, The Bee Keeping (Colonsay and Oronsay) Order 2013, comes into force today.
It protects the species from cross-breeding and disease, and means it will be an offence to keep any honeybees that are not black bees on Colonsay and Oronsay.
Environment and Climate Change Minister Paul Wheelhouse said:
"The black bee is an important genetic resource for all beekeepers – from a Scottish perspective and a considerable academic interest too. Our belief in this has led us to seek protection for the bee and thus help to protect its genetic integrity from long term dilution and loss of this important asset. The introduction of this strong, landmark legislation – overwhelmingly backed in our consultation last year - will go a long way to achieving our aim.
"The colonies being kept on the island are an increasingly rare source of black bees left in Europe, highlighting the importance of this reserve – the first of its kind in the UK.
"The Bee Keeping Order will ensure that the population of black bees on Colonsay are protected from hybridisation with non-native bees, ensure a bright future for black bees on the island and illustrates how our non-native species legislation can be used to protect our natural wildlife."
Andrew Abrahams, currently the only beekeeper on Colonsay, said:
"I am naturally delighted with the Scottish Government's commitment to help conserve our native honey bee.
"Colonsay's isolation and rich floral diversity make it an ideal location for a Reserve that can maintain genetic purity and a disease free population of black bees.
"The Scottish Government's recognition of the Colonsay and Oronsay Reserve will also help and inspire other beekeepeers throughout Scotland to work with and conserve black bees."