04/08/15 12:00
Creating a Healthier Scotland – the conversation begins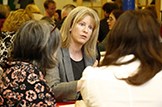 First national event held in Dundee
The conversation on the long term future of health and social care services in Scotland began today at an event held in Dundee.
Representatives from the Scottish Government, NHS, care sector, charities, patient groups and the third sector came together this morning in a café conversation-style event hosted by national third sector health and social care organisation, the ALLIANCE.
It is the first in a series of events and discussions which will be held around the country between August 2015 and April 2016.
This morning, Health Secretary Shona Robison opened the event in Dundee and called on people from across the country to get involved.
Ms Robison also announced the launch of the Creating a Healthier Scotland website, giving people the opportunity to follow the conversation and contribute to the debate as it progresses.
Ms Robison said: "Earlier this year I announced my intention to hold a national conversation about the future of our health and social care services. I want to seek agreement on how to make more progress in improving the health of the population, and on how our NHS and social care systems should develop by 2030 to continue supporting everyone to live well.
"We want to know what really matters to people and their families when thinking about the future, and what support they need to lead healthier lives.
"The NHS is a treasured institution and holds a special place in this country's heart. Nearly every single person has used or had some experience of the NHS in their lifetime and so it is absolutely right that we involve as many people as we can in the discussion about where the NHS will go in the next ten to fifteen years and beyond.
"There will be many opportunities for people to get involved, and tell us what matters over the coming months.
"We have made some real progress in recent years – cutting waiting times, vastly reducing superbug infections in our hospitals and bringing together health and social care through legislation for the first time ever to deliver fully joined up services for people in Scotland.
"We have also taken steps to address immediate challenges – like investing £100 million to tackle delayed discharge, recruiting record levels of staff, investing more than £12billion in a financial year for the first time ever and setting out a new plan for emergency care.
"Our vision for 2020 – that people should live longer healthier lives at home or in homely settings remains the right course to set. But our approach to health and social care between now and 2030 cannot simply remain the same as we face increasing challenges and pressures and we must start discussing and planning for that now.
"Most importantly, I want to ensure that as far as possible the outcome of the national conversation is turned into a practical reality. This isn't about producing just another vision – we want to take these views and put them into practice as quickly as we can.
"Today marks the beginning of this conversation and I'm pleased to be here in Dundee to listen to a wide range of stakeholders, professionals and patients of the NHS."
Ian Welsh, Chief Executive of the Health and Social Care Alliance Scotland (the ALLIANCE) said: "The ALLIANCE welcomes the national conversation on the future of health and social care in Scotland. This provides us with an opportunity to engage with people across the country who use support and services in defining priorities for improving Scotland's health and wellbeing. We look forward to working with our members to generate a substantial contribution to this process and support creative discussions about what keeps people well."
The national debate will focus around three broad questions:
What support do we need in Scotland to live healthier lives?
What areas of health and social care matter most to you?
Thinking about the future of health and social care services, where should our focus be?