11/06/14 10:00
Crime cash funds 3G pitches
Young people get a chance at future sporting success thanks to Proceeds of Crime cash.
Funding of £1.8 million has been awarded through the Scottish Government's CashBack for Communities programme for new 3G pitches.
CashBack takes money recovered under the Proceeds of Crime Act (POCA) and reinvests it back into initiatives to divert those who are on the cusp of offending and into local communities.
This is the second wave of funding from the CashBack for Pitches fund specifically for these state-of-the-art synthetic pitches, and a focus has been given to those areas which experience antisocial behaviour and crime.
The funding allocation is from a pot of £3.15 million; the first wave of 5 successful bids was announced in December 2013. The fund comprises £2 million from the Scottish Government's CashBack for Communities programme, coupled with £1 million from sportscotland and £150,000 from WREN.
Applications for funding were invited from partnerships between local authorities and local football and rugby clubs. The bids were assessed by a panel comprising officials from sportscotland, Scottish Rugby, the Scottish FA, WREN and the Scottish Government's Sport and Physical Activity Division. The successful applicants and locations range from Ayrshire to Aberdeen, and each project will receive £300,000. The successful bids are:

•Cumnock Juniors Community Enterprise at Townhead Park, Cumnock.
•South Ayrshire Council at Marr Playing Fields, Troon.
•Renfrewshire Council at Castlehead High School, Paisley.
•West Lothian Council at Linlithgow Leisure Centre.
•Craigie Community Sports Hub at Craigie High School, Dundee.
•Aberdeen Sports Village Ltd. at Aberdeen Sports Village.
The announcement comes during legacy week (9 June – Friday 13) when people, communities and organisations across Scotland highlight the legacy of the Commonwealth Games, shining a spotlight on how programmes, projects and investment, including CashBack are improving the lives of people across Scotland.
Justice Secretary Kenny MacAskill announced the funding earlier today at Aberdeen Sports Village. He said:
"This is a momentous year for sport in Scotland and the Commonwealth Games is providing young people across the country with the perfect inspiration for getting into sport.
"CashBack for Communities seizes money from some of the very worst of society and can provide those who have struggled at the start of their lives with fantastic personal and sporting opportunities.
"3G pitches can be used by every section of the community, young and old, however young people are very much our focus for this latest investment.
"This scheme, introduced by this Government in 2007, has already invested or committed £74 million for projects and initiatives right across the country. This additional money will take the number of 3G pitches funded since 2007 to 77.
"To come along to Aberdeen Sports Village and hear about the huge benefit this money will have is incredibly encouraging – and who knows with the FIFA World Cup kicking off tomorrow these new pitches maybe just the inspiration our young people need to encourage them to pull on a Scotland shirt in the future."
Stewart Harris, Chief Executive of sportscotland, said:
"We are delighted that another six projects are set to benefit from investment through the CashBack for Pitches fund.
"sportscotland is committed to developing world-class facilities throughout Scotland, and this excellent collaboration between ourselves, the Scottish Government, and WREN is helping to achieve this goal.
"Scotland's sporting facilities are the best they have ever been, and today's announcement underlines our commitment to continue to invest in this area."
David Beattie, Chief Executive of Aberdeen Sports Village said:
"This is a great time for sport in Scotland and we're delighted with the news of this funding. We already offer some great opportunities for the whole community to engage with sport and physical activity and this funding will allow us to further enhance our offering and continue to help improve the health and wellbeing of the local community."
Notes to editors
For more information about CashBack for Communities visit:
http://www.scotland.gov.uk/Topics/Justice/policies/community-engagement/cashback
The CashBack for Communities programme is a unique Scottish Government Programme which takes funds recovered through the Proceeds of Crime Act 2002 and invests them into community programmes, facilities and activities largely, but not exclusively, for young people at risk of turning to crime and anti-social behaviour as a way of life.
Since the inception of the Programme in 2007, over £74 million has been taken from criminals and invested or committed to partner organisations to provide free sporting, cultural, youth- work, employability and educational activities for children and young people throughout Scotland. The CashBack for Communities Programme has provided over 1.5 million activities and opportunities for young people.
WREN is a not for profit business that awards grants to community, environmental and heritage projects across the UK from funds donated by FCC Environment as part of a voluntary environmental tax credit scheme called the Landfill Communities Fund.
Downloads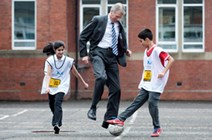 janebarlowphotography@gmail.com
07870 152324">