29/01/14 00:01
Crofting Register support continues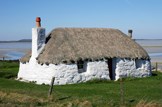 Communities urged to submit group applications.
Efforts to encourage community applications to the Crofting Register are being stepped up, Environment and Climate Change Minister Paul Wheelhouse has confirmed.
Registers of Scotland (RoS) has been asked by the Scottish Government to engage with crofting communities to facilitate and encourage group registrations of crofts. RoS will be creating a new post to undertake this engagement.
This new job will help provide support and guidance to communities on the registration process, the preparation of suitable plans and the completion of applications. The support will be provided by technical workshops and stakeholder meetings in crofting communities, and be available through email and telephone support. This follows comments received from crofters seeking access to guidance and support through the registration process.
The two year post will be jointly funded by RoS and the Scottish Government.

Mr Wheelhouse said:
"Crofting is an important part of Scotland's history and culture but it also has an important role to play in our future. Recognising the importance of registrations to the administration of crofting communities, I strongly urge crofting communities to work together, with RoS and other crofting organisations, to submit group applications to the Crofting Register.
"Establishing an accurate and legal record of all croft land boundaries that are collectively agreed has many benefits - not least limiting the potential for appeal and allowing those crofters who have registered to avoid expensive disputes over boundaries in future.
"The Scottish Government provided financial support for the establishment of the Crofting Register during its first year operating on a voluntary basis, and we are continuing funding to step up efforts to encourage community applications. This work will be taken forward, and jointly funded, by Registers of Scotland with the support of the Crofting Commission and builds on the valuable work undertaken by the Scottish Crofting Federation's community mapping project during the first year of the Crofting Register."
Sheenagh Adams, Keeper of Registers of Scotland, said:
"We are delighted to have been invited to lead on this project and look forward to working with those in the crofting communities to protect and secure croft land through registration."
Seoras Burnett, of the Peatcutters Croft, recently submitted a community application on behalf of Badralloch and highlighted the advantages of the procedure. He said:
"Meeting with Registers of Scotland and the Crofting Commission was very useful as they explained the whole process. We found that using the Ordnance Survey as a basis for putting together a map for the register was quite a straight forward process. The experience of making a community map was very positive and we would encourage other communities to submit registrations."

Crofting Commission Convener Susan Walker added: "We welcome the news that this will be a new service that will support and encourage group registration of crofts. We believe we should encourage groups of crofters or townships to make full use of this service once it is up and running. We believe this will result in increased group registrations in the future. We also welcome the news that the first group of crofters to submit a group registration - Badralloch - have confirmed that they found it to be a positive experience."
---
Notes to editors
The Scottish Government has allocated £42,500 funding over the next two years for the post, which will be match-funded by Registers of Scotland. RoS will also cover any travel and subsistence relating to this project.
The £42,500 is the surplus – minus group registration and RoS administration costs as a result of insufficient registrations – from the £100,000 allocated by the Scottish Government for a registration discount scheme to support the establishment of the Crofting Register during its first year. The discount, which ended on November 30, 2013 in accordance with the Crofting Register (Fees) (Scotland) Order 2012 (SSI 2012 No. 295), amounted to a reduced croft registration fee of over 22%, reducing the fee from £90 to £70 per croft for those applying as part of a group.
As well as guidance on the Registers of Scotland website - http://www.crofts.ros.gov.uk/register/home - further information about the Crofting Register and community mapping can be obtained by contacting the RoS Crofting Team at croftenquiries@ros.gov.uk or telephoning 0141 306 1510.