11/01/16 10:15
Education innovation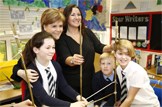 FM announces £4 million for attainment.
Funding of £4 million to improve educational attainment in schools across Scotland has been announced by First Minister Nicola Sturgeon.
The First Minister announced a new £1.5 million Innovation Fund to help schools across Scotland come up with innovative ways to improve attainment.
She also confirmed £2.5 million worth of allocations to the 57 schools that will receive funding as part of the Scottish Attainment Challenge Schools Programme.
These are in addition to the schools in the seven attainment challenge local authorities that are already receiving funding.
The Innovation Fund will identify and fund projects to improve literacy, numeracy and health and wellbeing for children adversely impacted by deprivation.
It will be open to primary, special and secondary schools who are not already benefitting from the Attainment Scotland Funding, opening up opportunities for all authorities to receive support.
The projects will be required to meet a number of criteria, such as being grounded in evidence of what works, promoting creativity and innovation in learning and having clear, measureable outcomes for children.
The Innovation Fund is part of the £100 million Attainment Scotland Fund previously announced by the First Minister in her drive to eliminate the attainment gap between children from our least and most deprived communities.
During today's visit to Warout Primary and Community School in Glenrothes, pupils demonstrated to the First Minister their STEAM (Science, Technology, Engineering, Art and Mathematics) project, a science based approach to learning as part of the school curriculum.
The school will receive £67,450 from the Attainment Scotland Fund this year to help with their project.
First Minister Nicola Sturgeon said:
"I've made it perfectly clear that closing the attainment gap between Scotland's least and most deprived children is one of my key goals. The Scottish Attainment Challenge Innovation Fund is an important addition to how Scottish Government is taking action to allow this to happen.
"The Attainment Scotland Fund is already supporting schools in the most deprived areas to implement projects to raise literacy, numeracy and health and wellbeing; the Innovation Fund will bring resources to more schools across Scotland and will complement this work.
"We want teachers and pupils to get creative, be excited about learning and come up with imaginative approaches to it; to find out what works and share that with others.
"This £1.5 million gives them the financial support to do so and with education being key to the future of Scotland's children and in the future of Scotland's economic health, this is a wise investment.
"Last week I announced our National Improvement Framework to provide evidence on the performance of young people in our schools. Projects like the one I am visiting today will play a key part in closing the attainment gap and ensuring our young people leave school with the skills and education they need."
Craig Munro, Fife Council's Executive Director of Education and Children's Services, said:
"We welcome this financial support by the Scottish Government as we focus relentlessly on improving the life chances of all our children and young people.
"It is nice to receive national recognition for our work in improving literacy levels and reducing the literacy gap in Fife's children. We also believe that skewing our resources to the greatest need, placing the emphasis on professional learning of our staff and using an evidence-led approach to improvement is critical if we are to achieve even more.
"We are very pleased to work in partnership with the Scottish Government on this common priority of reducing inequity in educational outcomes for our children and their families.
"Warout Primary has worked incredibly hard to implement a range of approaches and strategies to improve literacy and numeracy throughout the school. The commitment of former Head Carole Storrs and Acting Head Marie Hagney and the nurturing environment of the whole school have brought about great improvements.
"While everyone will agree that there are challenges remaining, they deserve to be recognised for the efforts and the improvements which have been made to date."
Senior Academic Advisor to the Scottish Attainment Challenge, Professor Chris Chapman said:
"This is a particularly welcome announcement for a number of reasons.
"Stimulating innovation with the education system is required to close the gap and this fund widens the net so more schools will benefit from additional resources to support their efforts in helping disadvantaged children.
"The £1.5 million also extends the Attainment Challenge into secondary schools – a clear indication that the government is taking the recommendations from the OECD review seriously.
"It is clear to me that all stakeholders have a moral responsibility to ensure the innovation fund both stimulates innovation and penetrates classrooms to make a difference to the outcomes of pupils from disadvantaged backgrounds."