11/02/16 10:00
Enterprising communities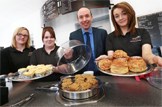 £2.5 million for regeneration projects.
More than 40 community organisations that are transforming disused properties and setting up enterprises in their areas, will receive a share of a £2.5 million fund.
The Scottish Government will increase its investment in the Strengthening Communities Programme (SCP) in 2016-17 by £500,000 to £2.5 million, to help communities lead economic and regeneration work in their areas.
The SCP will provide investment to enterprising community organisations that have the potential to become more self-sustaining and established.
Organisations whose funding will be maintained in 2016-17 include MsMissMrs in Glasgow which uses the profits from the sale of underwear to organise training courses for women, the Happy n Healthy Community Development Trust in South Lanarkshire which is developing a community wind turbine and the Glendale Trust in Skye, which is taking on ownership of the Borrodale School and Meanish Pier.
Community Empowerment Minister Marco Biagi announced the additional investment on a visit to Burnfoot Community Futures in the Scottish Borders.
Mr Biagi said:
"This £2.5 million investment is helping communities breathe life into disused buildings, producing opportunities for renewables generation, establishing community transport and tourism initiatives and creating jobs.
"We've already seen the benefits of funding these projects with communities across Scotland becoming more resilient, taking ownership and control of their own areas and generating income by coming up with entrepreneurial ideas.
"By increasing our investment this year we are able to give more communities the opportunity to take forward improvements to their area, on their own terms. This investment will help enterprising community groups become anchor organisations in their local areas.
"This funding supports the aims of the Community Empowerment (Scotland) Act which comes into effect this year and is a momentous step in our drive to increase participation in local decision making."
Over the next few months community regeneration partners the Scottish Community Development Centre, Highlands and Islands Enterprise, the Development Trust Association Scotland (DTAS), Community Enterprise in Scotland (CEIS) and Carnegie UK Trust will put forward recommendations on other organisations that could receive a share of the additional £500,000, for approval by the Programme Board.
Thanks to funding of £585,000 through the joint local authority and Scottish Government Regeneration Capital Grant Fund, and a Big Lottery grant, Burnfoot Community Futures was able to purchase a derelict former pub and transform it into a multi-purpose centre. The hub now hosts a nursery offering childcare and training, café, soft play area, garden and growing space and function room with dance studio and events space.
The centre, which opened in October, will receive around £50,000 in 2016-17 from the Strengthening Communities Programme, to continue funding a development manager to support these activities and promote the hub.
Zoe Hall, the chair of Burnfoot Community Futures said:
"This facility is community owned, community led and community run and is starting to make a real difference to people locally. For the first time there is a 'drop in' place to meet at the café and an increasing number of things to do here, for all ages.
"We are grateful to the Scottish Government for the capital funding which allowed us to buy and transform the old pub and we thank the Minister and his team for already providing nearly £85,000 of Strengthening Communities funding which has helped the board to gain the skills and put in place the processes to make this project such a great success."
Notes to editors
More information is available at: http://www.gov.scot/Topics/Built-Environment/regeneration/community/strengthening-communities

The initial list of Strengthening Communities Programme projects that are expected to continue receiving grant funding in 2016/2017 is below:
| | |
| --- | --- |
| Community Organisation | Local Authority Area |
| Duncan MacKinnon Music and Arts Trust Ltd. | Scottish Borders |
| Fyne Futures | Argyll & Bute |
| MsMissMrs Community Interest Company | Glasgow |
| The Carrick Centre | South Ayrshire |
| Annexe Communities | Glasgow |
| Auchinleck Community Development Initiative | East Ayrshire |
| Balerno Village Trust | Edinburgh |
| Barmulloch Community Development Company | Glasgow |
| Beith Community Development Trust | North Ayrshire |
| Burnfoot Community Futures | Scottish Borders |
| Carluke Development Trust | South Lanarkshire |
| Community Alliance Trust | Edinburgh |
| Connect Community Trust | Glasgow |
| Crossroads Community Hub Ltd. | East Ayrshire |
| Dunblane Development Trust | Stirling |
| Ettrick and Yarrow Community Development Company | Scottish Borders |
| Fauldhouse Community Development Trust Ltd. | West Lothian |
| Fraserburgh Development Trust | Aberdeenshire |
| GNH | North Lanarkshire |
| Gorebridge Community Development Trust | Midlothian |
| Greener Kirkcaldy | Fife |
| Health n Happy Community Development Trust | South Lanarkshire |
| Here We Are (Cairndow) Ltd. | Argyll & Bute |
| Huntly and District Development Trust | Aberdeenshire |
| Laggan Forest Trust | Highland |
| Lambhill Stables | Glasgow |
| Linwood Community Development Trust | Renfrewshire |
| LoveMilton | Glasgow |
| Muir of Ord Hall & Facilities Company | Highland |
| Neilston Development Trust | East Renfrewshire |
| North West Mull Community Woodlands Company | Argyll & Bute |
| South Kintyre Development Trust | Argyll & Bute |
| Woodlands Community Development Trust | Glasgow |
| Applecross Community Company | Highland |
| Lochcarron Community Development Company | Highland |
| Kyle & Lochalsh Community Trust | Highland |
| Raasay Development Trust | Highland |
| South West Mull and Iona Development Trust | Argyll & Bute |
| Staffin Community Trust | Highland |
| South Islay Development | Argyll & Bute |
| The Glendale Trust (Glendale & Duirinish) | Highland |
| Ulva Ferry (c/o Mull & Iona Community Trust) | Argyll & Bute |