27/03/15 11:00
EU Action Plan launched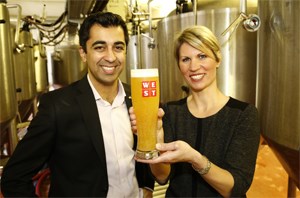 Latest RSA grant demonstrates EU is vital for protecting Scottish jobs
Minister for Europe and International Development, Humza Yousaf, today announced £140,000 in Regional Selective Assistance (RSA) for the award-winning WEST Brewery in Glasgow, boosting employment in the area.
Mr Yousaf made the announcement on the same day the Scottish Government published its refreshed Action Plan for EU Engagement. The plan lays out how the Scottish Government and its agencies will protect, strengthen and further enhance Scotland's place in Europe.
Today's grant will help the WEST Brewery grow their current export sales of their German influenced beer. All their beers are brewed in strict accordance with the 1516 Reinheitsgebot, the ancient German Purity Law.
The company was started by Petra Wetzel, who was born in Germany but moved to Scotland to study at Glasgow University before founding the company. 2015 will see WEST Brewery commission the construction of a new state of the art brew house on site in the iconic Templeton Building at Glasgow Green.
WEST Brewery owners will use the grant to create at least five new jobs and safeguard thirteen existing roles. The micro-brewery, based at Glasgow Green, will invest £2.8m in their second production facilities to meet growing demand and open up new markets.
RSA are awarded to companies to grow the economy in specific areas requiring assistance in order to tackle inequality and reduce unemployment. The fund is administered by Scottish Enterprise. It is available as part of the €985 million of European Regional and Social Funding, matched by the Scottish Government and partner funding.
Last year (2013/2014), 117 offers of RSA were accepted in Scotland, totalling over £52.5 million. The investment is expected to create or safeguard 6,161 jobs.
Securing more jobs, tackling inequality and creating wealth are at the heart of a newly refreshed EU strategy published today by the Scottish Government. Continued EU membership is central to the strategy, and the Action Plan commits the Scottish Government to promoting the benefits of EU membership while encouraging EU reform within the terms of the existing EU Treaties.
Humza Yousaf, the Minister for Europe and International Development said:
"Jobs, investment and a huge market for exports are just a few of the reasons Scotland is firmly committed to working within a thriving EU.
"Regional selective assistance to businesses like the WEST Brewery is helping them expand and create new employment. WEST Brewery creates quality products with a distinct European influence from Scottish ingredients. Petra's entrepreneurial spirit and business success highlight how shared ideas and the movement of citizens is great for Scotland as well as Europe.
"As part of the EU, Scotland is part of the world's largest economy and people are free to trade, study and work across the European Union. Around 20 million businesses operate in the EU single market, and the EU is a vital export market for Scotland worth a massive £12.9 billion each year.
"Today we also published our Action Plan for EU Engagement which will strengthen our economy and help us tackle global challenges such as extremism and energy security.
"Scotland continues to flourish as part of Europe. It is vital that Scotland is not dragged out of the EU against her will. The UK Prime Minister's proposed in-out referendum on the UK's EU membership puts Scotland's place in Europe in serious danger. As stated in today's plan we will continue to be champions for Europe and the benefits it brings for millions of Scots.
"Growing Eurosceptic views have put the EU at risk. Those of us who believe that the EU is important – as an agent capable of delivering jobs, peace, prosperity and social progress – need to take decisive action. For these reasons, we need positive reform to improve trust in the EU but also to see strong, sustainable and inclusive economic growth across Europe."
Petra from WEST Brewery said:
"I have been a proud adopted Scot for the last 20 years and my business is firmly rooted in Scotland with WEST's philosophy being "Glaswegian heart, German head". We employ a superb mix of people from all over Europe and two of our chefs have just come back from a work exchange with a Bavarian brewery/bar and restaurant. The entire team at WEST are super excited that 2015 will be the year we finally open our second brewery to enable us to become even more ambitious and grow our sales, both in the UK and abroad."
Iain MacGillivray, Scottish Enterprise Account Manager, said:
"We are delighted to have been able to support West Brewery through RSA, they are an ambitious company with a clear vision for the WEST brand and we look forward to working with them as they continue to grow and expand."
Notes to editors
Scotland's Action Plan for EU Engagement
More information on Scotland's Action Plan for EU Engagement is available on a dedicated area of the Scottish Government website.
The action plan aligns with the Programme for Government, builds on the key priority of Internationalisation in Scotland's Economic Strategy and sets out the detail underpinning the newly published International Framework objective of Engaging with the European Union.
Regional Selective Assistance
Regional Selective Assistance (RSA) is the main national scheme of financial assistance to industry. It provides discretionary grants to investment projects that will create and safeguard employment in areas designated for regional aid under European Community law.
Payment of RSA is made in instalments, typically over several years as job and capital expenditure targets are met. Not all projects will proceed, and nor do all accepted offers result in full payment, as projects are sometimes scaled down or abandoned before payments are made. The figures quoted represent the maximum grant potentially payable if the project is satisfactorily completed, and not the amount actually paid to date. All job numbers are firms' forecast figures, and are subject to change depending on future economic conditions and other factors affecting the businesses concerned.
For more information on RSA go to http://www.scottish-enterprise.com/rsa