24/12/13 00:01
Festive farm payments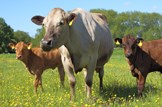 Christmas cheer for more than 17,000 Scottish farmers.
More than 17,400 Scottish farmers and crofters will have received their Single Farm Payments in time for Christmas, Rural Affairs Secretary Richard Lochhead has confirmed.
The latest payment run of £1.6 million to 140 farmers will reach bank accounts today (Tuesday December 24, 2013) – meaning a total pre-Christmas boost to Scotland's rural economy of about £424 million.
Mr Lochhead said:
"I am delighted to confirm that 94 per cent of farmers and crofters will have received their Single Farm Payments in time for Christmas.
"This support is often vital for farmers, but with every £1 of output from the agricultural sector generating an additional 80p in other parts of the Scottish economy the £424 million paid out since the start of December is clearly a welcome festive boost for all of Scotland.
"The Scottish Government has a strong track record in making early Single Farm Payments in full, and I am pleased to say that we are doing even better than we did in 2012. We have paid almost 300 more farmers, and boosted the rural economy by £21.5 million more, than this time last year.
"Our focus now is to try to ensure as many Scottish farmers as possible receive their payments by the end of January 2014, which is five months ahead of the European Union deadline. Producers can help us to settle their claims by responding promptly to any queries they may receive from Scottish Government officials."
Beef farmers are also being reminded that the 2013 Scottish Beef Scheme (SBS) closes for applications on December 31, 2013.
Mr Lochhead added:
"Scotch Beef is a prime product that is in demand all over the world – but there is evidence that Scotland's beef sector is in decline.
"The current Scottish Beef Scheme, which is worth almost £24 million a year, is aimed at halting that decline, and I urge farmers to make sure applications for the 2013 programme are submitted ahead of next week's Hogmanay deadline. It's really worth checking past paperwork as animals that have been the subject of previous claims cannot be claimed for again.
"The Scottish Government is also looking at how best to provide support for beef production in the new CAP, including maximising coupled support for the beef sector, and I am keen to hear views on our proposals. And I have asked Jim McLaren to chair an industry led group to bring forward proposals to reinvigorate the beef breeding sector in Scotland."
Notes to editors
So far, 94 per cent of farmers and crofters (17,400) have been paid a total of approximately £424 million in Single Farm Payments. That compares to 92 per cent (17,100) paid a total of £403 million at the same time in 2012.
The European regulations fix a payment window that means payments can be made between December 1, and June 30, in the following year.
Payments are being issued to producers who have successfully passed the Scottish Government's eligibility checks. Because of European Commission conditions attached to payments, farmers and crofters who have outstanding inspections or other eligibility issues cannot be paid until these have been resolved.
The payments farmers will receive are net of a reduction for modulation and, required by the European Commission for the first time this year, the financial discipline.
Scottish farmers who are registered for Rural Payments Online can apply for the Scottish Beef Scheme online and access payment information up to seven days in advance of it going into their bank accounts. Signing up for Rural Payments Online also allows claimants to apply online, with 24 hour access, instant receipts and dedicated helpdesk support.
Applications for the Scottish Beef Scheme can be submitted online or on paper via local area offices. Farmers applying for the Scottish Beef Scheme are being reminded to check that the animals being claimed for have not been the subject of previous claims.