12/09/13 14:30
First Minister's Christmas card sold at auction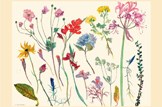 Four good causes to benefit as Blackadder painting fetches £12,000.
The original artwork for the First Minister's official 2012 Christmas card was sold today at auction, raising £12,000 for charity and bringing the total raised for good causes since the initiative was launched to more than £146,000.
The array of flowers and plants painted by Dame Elizabeth Blackadder went under the hammer in the Bonham's Scottish sale in Edinburgh, with the auction proceeds to be split between Breakthrough Breast Cancer, Dyslexia Scotland, the Scottish Steelworkers Memorial Fund and the Sick Kids Friends Foundation.
Today's proceeds will be bolstered by sales of limited edition prints of the Blackadder painting, gifted to each charity by the First Minister to be sold or auctioned as part of their ongoing fundraising efforts.
The sale comes a day after the First Minister visited the drop-in centre run by the Sick Kids Friends Foundation - a charity chosen by the artist - to learn about the support services it offers to children, young people and families attending the Royal Hospital for Sick Children in Edinburgh.
The latest auction proceeds bring the total money raised from sales of the artwork from the First Minister's Christmas cards to more than £146,000 since the first card was painted by John Lowrie Morrison in 2007.
Other charities to have benefitted from previous sales include Children's Hospice Association Scotland, the RNLI, CLIC Sargent, Quarriers, Mary's Meals, and the Scottish Catholic International Aid Fund.
The First Minister said:
"To have on my official Christmas card a work by an artist of the calibre of Dame Elizabeth Blackadder is a tremendous privilege and I am absolutely thrilled that her beautiful array of flowers and plants has raised so much for these outstanding and very deserving causes.
"Today's sale will, I hope, go some way to helping the incredible work that each one does in communities across Scotland, whether that's helping people overcome dyslexia; fighting for a cure for breast cancer; establishing a fitting memorial to those who died in Scotland's steel industry or offering life-changing support to the young people and families who attend the Sick Kids.
"Since I launched the charity Christmas card initiative in 2007, it has been a great honour to have included the work of some of Scotland's most prominent artists, including John Bellany, one of this country's very best who we sadly lost just last week. Each one has given of their time very generously and helped us to raise a fantastic £146,000 for good causes."
Maureen Harrison, chief executive of the Sick Kids Friends Foundation, said:
"Everyone at the hospital was delighted to welcome First Minister Alex Salmond ahead of the sale of the original painting by Dame Elizabeth Blackadder. It was lovely for the children receiving care at the hospital to meet him and show him some of their own masterpieces.
"Today's auction at Bonham's Scottish Sale in Edinburgh raised a fantastic amount for four very worthwhile charities. Last year, we dedicated funds to implement two posts – our Writer in Residence, Linda Cracknell, and our Illustrator in Residence, Cate James. Both have been integral in providing a creative outlet for children receiving treatment.
"Our big-hearted fundraisers span across all walks of life, from corporate sponsors, to volunteers to those who have received treatment at the hospital or for those who know a child who has - they are all equally important to us. Without them we would be unable to make these life-changing investments.
"On behalf of the Sick Kids Friends Foundation I would like to thank the First Minister and the bidders for their contributions towards this very generous donation."
Mary Evans, director, Dyslexia Scotland said:
"Dyslexia Scotland is delighted to have been chosen as one of the four charities to benefit from the sale of the First Minister's Christmas Card.
"We encourage and enable people with dyslexia, regardless of their age and abilities, to reach their full potential in education, employment and life.
"The donation which we will receive from the sale of Dame Elizabeth Blackadder's beautiful painting will be put to very good use in supporting our work."
James Jopling, Scotland Director at Breakthrough Breast Cancer said:
"As a charity with a single-minded ambition to stop women dying from breast cancer, we are delighted to be a beneficiary of the First Minister's Christmas card artwork. The money raised by the sale will help fund our vital work to develop treatments for what is the most common form of cancer among women in Scotland."
Terry Currie, chairman of the Scottish Steelworkers Memorial Fund, said:
"As Chairman of the Scottish Steelworkers Memorial Fund Committee, I welcome today's announcement regarding the sale of the First Ministers Christmas Card.
"We have been delighted with the support which the First Minister has given us both through the sale of the Christmas card and in other ways. We hope to be in a position to move ahead with our project shortly''