03/03/16 15:25
First Minister's Reading Challenge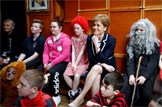 Fostering a love of reading for pleasure.
Children across Scotland will be encouraged to nurture a lifelong love of books and reading through a new challenge set by First Minister Nicola Sturgeon.
The challenge will encourage children to read as many books as possible each year from a selection chosen by a special panel of academics, experts and teachers, with the First Minister's chosen book taking the first place on the list.
The challenge will initially be for around 220,000 children between primary four and seven, who will record their reading progress in a reading passport and be encouraged to write a short review of the books they read. Prizes will be awarded to children and schools following a judging panel next year, chaired by the First Minister.
The First Minister announced the Reading Challenge today with the help of pupils from Brunstane Primary School, and gifted them with copies of her first selection – her favourite children's book, Five on a Treasure Island by Enid Blyton.
The remaining books will be decided later this summer and the scheme will be rolled out to all other school pupils following this initial challenge.
The First Minister said:
"Some of my happiest childhood memories involve immersing myself in the adventures of the Famous Five so I'm pleased to have the opportunity to encourage young people to also experience the joy of reading for pleasure.
"Research also shows that reading for pleasure is crucially important for children's development, and I hope this scheme goes a long way in encouraging Scotland's young people to see reading as an important leisure activity as much as a school one.
"I'm delighted to gift some copies of one of my own favourite books from childhood, in the hope that children who choose to read it get as much from it as I did.
"A world class Reading Challenge will help to support the excellent work going on in schools and communities but it is only one part of our work to improve literacy and numeracy, which also includes more than £160m investment in education over the next 3 years until 2019 through the Attainment Scotland Fund.
"The First Minister's Reading Challenge will be an inclusive, exciting programme relevant to all children and I will be thrilled to see the final book list when it is completed this summer."
The Scottish Book Trust Chief Executive, Marc Lambert, added:
"Scottish Book Trust is delighted to be delivering the First Minister's Reading Challenge. It is a well-documented fact that a love of reading in the early years is hugely important in terms of a child's future prospects, so any initiative that encourages children to get excited about books and to be adventurous in their reading choices is to be welcomed."
Notes to editors
The Reading Challenge will run between August 2016 and March 2017 and be open to all P4 to P7 children in local authority and independent schools across Scotland.
The Scottish Book Trust will administer the scheme, working closely with Education Scotland. The detailed rules, to be worked up April - July 2016 and announced in August, will include the Reading List, Prizes, Reading Passport and support for young people to access books.
After reading a book, children will record their achievement in a special Reading Passport – which will be issued to every pupil in P4 to P7 and submit a short review of the book to their school for judging, with the best passed on for central judging in April / May 2017.
The final book list will be announced in the summer following the work of a specially-convened group of teachers, authors, academics and experts, which will include some Gaelic titles. The aim is to produce a high quality list that gains the respect of teachers, parents and children.
Prizes will be announced by mid-June 2017 and be awarded for:
the school with the most books read and reviewed on a per pupil basis.
the pupil with the most books read and reviewed.
the pupil with the best review
The best reviews will be judged by a panel of experts – with the First Minister, choosing the overall best ones from a short-list of 33.