09/10/13 00:01
FM announces doubling of Scotland's Climate Justice Fund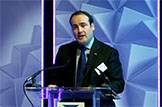 Conference brings civil society, public and private sectors together
The Scottish Government is to double its funding to help reduce the impact of climate change on the world's poorest communities, the First Minister announced today, as representatives of civil society, the public and private sector come together for a ground-breaking conference which will be addressed by Mary Robinson, former President of Ireland and former UN High Commissioner for Human Rights – who now campaigns around the world for climate justice.

Alex Salmond announced an extra £3 million for the Climate Justice Fund (CJF), to increase community resilience to the impacts of climate change.
These new funds comes further to the initial £3 million funding announced last year, which has supported water projects in Malawi and Zambia, and follows the recent IPCC report highlighting the impact of climate change.
The First Minister said:
" Today's conference demonstrates Scotland's continuing commitment to lead world thinking in the fight for climate justice – and is bringing together civil society, the public sector and the private sector in doing so.
" But as well as discussing these issues and bringing together key stakeholders, we are taking practical action on the ground to help those most vulnerable to climate change – those in the world's poorest communities in countries like Malawi – Scotland's historic sister nation. By doubling the Climate Justice Fund we can provide genuine life-saving and life changing help to those communities.
"The Scottish Government has been at the forefront of the fight against climate change, such as our ambitious emissions reduction and renewables targets. It is an honour to partner with Mary Robinson in taking this agenda forward, and highlights yet again how Scotland can set a good example on key global issues."
Mary Robinson said:

"With 2015 set as the deadline for both a new climate agreement and the post-2015 development agenda, we are at the point in human development when we need to act urgently to protect people and to create opportunities for all. Strong alliances between civil society, private sector and policy makers are needed that will provide demand for and leadership of a low carbon, climate resilient economy.

"There is a huge opportunity for businesses that embrace a new model of responsible capitalism. This goes well beyond Corporate Social Responsibility. It's about a licence to lead, where the focus is on the long term, not on quarterly earnings and profit maximisation. The needs of citizens and communities should carry the same weight as those of shareholders. This is the social compact that exists between business and citizens".

Professor Alan Miller, Chair of the Scottish Human Rights Commission said:
"The Commission welcomes the initiative to host an international conference on climate justice.
"Climate change is arguably the 21st century's greatest challenge to human rights and it is already impacting upon the lives, livelihood and ways of life of hundreds of millions of people. The impact is felt most by people in developing countries who have contributed the least to climate change. Climate justice recognises and addresses this injustice.
"This event is an opportunity for Scotland to develop a practical roadmap to implement its climate justice commitments. This includes the business sector which needs to understand and act on its responsibilities and opportunities. The conference is also a way to contribute to the international dialogue necessary to reach an agreement on post 2015 legally binding carbon emission targets."
Chris Hegarty, Chair of the Enough Food for Everyone IF Scotland campaign said:
"The Scottish Government's announcement today to increase its Climate Justice Fund is a major victory for supporters of the Enough Food for Everyone IF campaign in Scotland. It is an important step along the road to Scotland repaying its climate debt to the poorer countries, and a timely example to other nations who should follow suit.
"Climate change is having a major impact on the ability of people in developing countries to grow enough food for themselves and their families. If we are to live in a world free from the scandal of global hunger, it is vital that we help vulnerable communities to adapt to the changing climate. This is not charity but a matter of justice, as wealthy industrialised nations such as Scotland are widely acknowledged as having caused the problem."
Tom Ballantine, Chair of the Stop Climate Chaos Scotland coalition said:
"It is great to see Scotland setting a positive example to other wealthy nations by reconfirming its commitment to the Climate Justice Fund with the additional money announced today. This will enable Scotland to provide urgently needed support to people living in poverty in developing countries who are already struggling to plant and harvest their crops in the face of increasingly unpredictable and extreme weather.
"In the run up to the UN's climate change summit in Poland next month, other wealthy industrialised nations also need commit to reduce their greenhouse gas emissions in line with scientific advice and provide the urgent funding that is needed to help those who are being hit first and hardest by climate change."