29/09/13 00:01
FM launches national flu campaign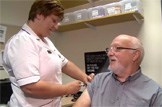 Helping those at risk stay protected against the dangers of flu.
First Minister Alex Salmond today launched the single largest immunisation programme ever to take place in Scotland, by receiving the vaccination himself.
The flu vaccination is one of the most important preventative health measures undertaken. A fifth of the population receive the vaccination protecting individuals, and in turn, families, carers and health workers.
A new childhood flu programme protecting children will be rolled out this year starting with all two and three year olds being offered the nasal spray Fluenz.
It will be offered to around 120,000 two and three year olds and around 100,000 primary school aged children in Scotland. When fully implemented, around one million children across Scotland will have the chance to be immunised.
Mr Salmond was one of the first this year to take the precautionary measure alongside toddlers, parents and grandparents at a community surgery in Maud, Aberdeenshire.
Speaking shortly after receiving his flu vaccination Mr Salmond, said:
"Flu is a serious illness and a vaccine is the only way to protect you and those around you. The vaccine is safe, quick, and for those considered at risk, free from the GP. The vaccine is an excellent way to protect you and help stop flu spread over winter.
"We are committed to help and protect the most vulnerable and at risk groups in society likely to suffer serious consequences of flu. As a result, for the first time this winter we are taking extra precautions to protect families by making sure children are also offered this vital vaccine.
"As an asthmatic, I get my flu vaccination every year to make sure I'm protected and ready for the winter and I'm delighted to launch this national campaign. It is hugely successful and the existing programme has seen 2000 fewer hospitalisations and 25,000 fewer GP consultations. It is better to be safe than sorry and I encourage all those who need the vaccination to visit their surgery."
Dr Nicola Steedman, the Scottish Government's Senior Medical Officer, reinforced the importance of getting immunised against flu:

"Every year we see examples of how devastating flu can be. For those with existing health conditions such as asthma, diabetes, heart or liver problems flu can result in serious complications. Furthermore, those who are pregnant or over 65 are also at increased risk of flu and its complications and should be vaccinated to help protect against flu, even if they currently feel healthy and fit.

"Flu can also be very serious for children, particularly the youngest ones who have little or no immunity to the infection, which is why we are rolling out the new childhood flu immunisation programme. The childhood vaccination will be administered in most cases using a nasal spray, as this is more effective in children and has the added benefit of making it as simple as possible for children to get vaccinated and be protected.

"Getting immunised against flu is easy and safe, and it avoids unnecessary worry for you and those close to you. As a healthcare worker myself I have my flu vaccination every year and I'd encourage all those who are eligible to do the same. Together we should make sure we get all the protection we can so that everyone in Scotland can have a safer, healthier winter."
Notes to editors
The flu vaccination is available for free to:
People aged 65 and over
Those under 65 with a condition that puts them at greater risk
Pregnant women
Unpaid carers
Health and Social care workers
Children aged 2–17 with 2 and 3 year olds starting to receive the nasal fluenz vaccination this year
100,000 children from a selection of primary schools in every health board area will take part in a pilot programme over 2013 / 2014
Scotland has achieved the highest vaccination levels for seasonal flu and the existing childhood immunisation programme across the UK, with the exception of Northern Ireland.
The routine seasonal flu vaccination programme will begin officially on 1 October. The new national social marketing campaign includes a TV advert which will go live on the 1 October. The campaign focuses on people at risk of flu and the serious health and emotional consequences of flu has on people and those close to them. The campaign carries the strapline, The Flu Vaccine: Better Safe Than Sorry.
People not eligible for a free vaccination can get the vaccine in many high street pharmacies for a small fee.
The childhood vaccine will be administered using a nasal spray, and will be delivered by a combination of schools and GP practices. It offers better protection to children against flu than the previous injectable vaccine.
For more information on flu see www.immunisationscotland.org.uk