17/06/14 10:30
FM opens new Kirkwall school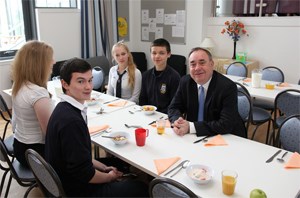 Official opening of £41.4m Kirkwall Grammar School and halls of residence.
First Minister Alex Salmond has performed the official opening of Kirkwall Grammar School and Papdale Halls of Residence, as part of a two-day visit to Orkney.

The school and halls were built as part of Orkney's £58 million Schools Investment Programme, boosted by £40 million from the Scottish Government.

Speaking at the official opening of the school, from where he also chaired the weekly Ministerial Cabinet meeting today, the First Minister said:

"I'm absolutely delighted to join Orkney Islands Council and the pupils of Kirkwall Grammar School to officially open their new school buildings. I've been able to see for myself the high standard of the new buildings, and this has been recently echoed by inspectors as being 'outstanding'.

"Young people from Orkney and nearby islands will be able to develop their skills in top rate educational facilities, including a fantastic new theatre, hair dressing salon, state of the art classrooms and an abundance of social space for the young people.

"The provision of quality school accommodation and learning facilities is supporting the successful delivery of Curriculum for Excellence, which meets our ambitions to support our young people to flourish as successful learners.

"The future of our young people is of the utmost importance, I want to see confident, responsible citizens who make an effective contribution to the communities they will live and work in. This is reflected by our ambitious £1.25 billion Schools for the Future programme, which will see the construction of 67 new schools across the country.

"In addition, since 2007, more than 400 schools have been rebuilt or substantially refurbished across Scotland, offering improved facilities for hundreds of thousands of Scots pupils.

"This new school in Kirkwall is the result of a fantastic partnership between Orkney Islands Council and the Scottish Government, working together to deliver first class educational accommodation for our young people. I wish the school and everybody in it all the best for the future."

Councillor Janice Annal, Chair of Orkney Islands Council's Education, Leisure and Housing Committee, said:

"The Schools Investment Programme was a hugely important project which has improved the quality of education provision in Orkney. Everyone who comes through the door of the new Kirkwall Grammar School is hugely impressed with the quality of the design and the ambience. I'm confident that this building provides a learning environment second to none for pupils and teachers both now and in the years to
come."

Kirkwall Grammar School head teacher Sheila Dick said:

"We are delighted with the new school. The whole school community has been lifted by the building which is light, airy and spacious. Break out spaces, double classrooms, a superb theatre and outstanding PE facilities are just some of the features that make KGS a superb learning and teaching environment. The foresight of the Scottish Government and Orkney Islands Council in funding this wonderful building is to be commended."

While on Orkney, the First Minister also set out a programme of powers for Scotland's islands. The proposals – results of nearly a year's collaboration between Island councils and the SG over the Our Islands, our Future campaign cover Orkney, Shetland and the Western Isles and will extend powers to all of Scotland's islands.

The island prospectus will show how with the powers of independence Scotland's islands can be empowered to have greater control over their local economies, natural environment, and have a guarantee that their concerns will be represented at the heart of government.

The First Minister also opened the new £9.2 million Copland's Dock Development in Stromness, which has seen the construction of a new 100-metre pier and associated access road.
Notes to editors
Background

New Kirkwall Grammar School – key facts
16000m2 of floor space
Full size rugby pitch
3 no grass football pitches capable of accommodation a 400m running track
New Synthetic Grass pitch to benefit the school and the local community
8000 tonnes of concrete used to pour the foundations
6000 tonnes of concrete in floor slabs
1400 tonnes of steel used
Solar PV panels installed on the roof to heat water and produce electricity
10 local apprentices employed through different sub-contractors
By March 2018 the Scottish Government's £1.25 billion Schools for the Future Programme will see the construction of 67 new schools built for over 46,000 pupils. These schools will be built in every part of Scotland in partnership with local authorities. £800m will be provided by Government and £450m by local authorities.