18/05/15 09:30
Fund for new medicines doubles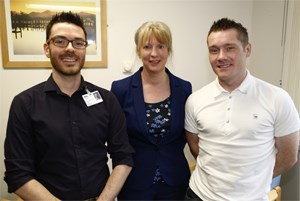 £80m to be made available in 2015/16
The Scottish Government will double the amount of money available to fund treatments for people with rare or end-of-life conditions by increasing the New Medicines Fund to £80 million for 2015/16.
The New Medicines Fund, set up last year to expand and replace the Rare Conditions Medicines Fund, supports health boards to fund the cost of orphan, ultra-orphan and end-of-life drugs for patients.
This is the second year in a row that the Scottish Government has doubled the amount of money available to fund new medicines, with £20 million provided in 2013/14 and £40 million provided in 2014/15.
The fund also supports changes to the way the Scottish Medicines Consortium (SMC) assesses medicines for use in NHS Scotland, which is resulting in an increasing number of treatments being approved for patients with very rare conditions or at end of life.
On a visit this morning to the Scottish Cystic Fibrosis Service at the Western General in Edinburgh, Health Secretary Shona Robison said the New Medicines Fund had helped give patients across Scotland access to some of the most-advanced treatments and therapies.
Ms Robison met with staff to discuss the services provided to patients with cystic fibrosis in the East of Scotland, as well as hearing from patients who have benefitted from new drugs funded by the New Medicines Fund.
Ms Robison said: "This Government, working with the Scottish Parliament's Health and Sport Committee, has radically overhauled access to treatments for people with rare and end-of-life conditions, and the New Medicines Fund has been key to removing a potential barrier to accessing expensive new drugs.
"Today, I have heard first hand from patients with cystic fibrosis about how some of these new drugs coming on the market can have a life-changing impact.
"For many patients, innovative treatments can extend their lives or improve the quality of the time they have left, and I am clear that we should be doing all we can to make these available.
"That is why I am announcing today that we will double the resources available to fund new medicines, committing £80 million next year to support patients needing rare or end-of-life treatments.
"The fund will work in tandem with the changes introduced to the SMC process, which has given patients greater say over decisions and resulted in more drugs approved for widespread use on the NHS."
Yvonne Hughes, Public Affairs Officer for the Cystic Fibrosis Trust, said: "We are delighted to be here today to hear the announcement of additional funding to be put into the New Medicines Fund. This fund currently pays for a small group of people with cystic fibrosis to receive a life changing drug.
"I believe this announcement will put at rest the minds of patients who were unsure of the future of the fund and, not only that, take comfort that the Scottish Government have paid attention and continue to support small patient populations, and those at end of life to receive drugs that really do make life-changing or life-extending improvements."
Since 2013/14, over 1000 Scottish patients have started treatment funded by both the New Medicines Fund and the Rare Conditions Medicines Fund.
The number of patients benefitting from these changes and the associated funding continues to grow each year. From around 200 patients in 2013/14 to over 800 patients in 2014/15.
Notes to editors
Following recommendations from the Scottish Parliament's Health and Sport Committee and work commissioned by the Scottish Government to review patient access to new medicines a wide range of changes have been put in place to increase access to orphan, ultra-orphan and end of life medicines.