11/11/13 10:34
Games legacy for creative industries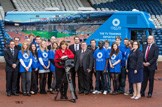 Students to receive Commonwealth Games broadcast training and work experience
Around 600 students in the creative sector will benefit from Commonwealth Games broadcast training and work experience thanks to a half million pound funding package.
The Host Broadcaster Training Initiative (HBTI), a key Legacy 2014 programme of Glasgow 2014, will see over 200 students receive work experience at the Commonwealth Games, with a further 400 students and lecturers taking part in world-class training.
Financial support of £534,000 from the Scottish Funding Council and Skills Development Scotland has been confirmed today.
The initiative will be jointly managed and delivered by SVGTV, the Host Broadcaster for the Glasgow 2014 Commonwealth Games, and Creative Loop, Scotland's talent development hub for the creative media industries.
Culture Secretary Fiona Hyslop, who today met some of the students involved and unveiled the Legacy 2014 Outside Broadcast truck, said:
"Working at Scotland's biggest ever sporting event will be an exciting and rewarding experience for these students. The benefits for Scotland are a new generation of talent, giving Scottish firms a wider pool of experienced staff to cover other major sporting or music events. There will also be a greater ability for our colleges to teach new skills in the creative industries. That is a tremendous, tangible and long lasting legacy from hosting the Games."
David Grevemberg, Glasgow 2014 Chief Executive, said: "Sunset Vine and Global TV, Glasgow 2014's Host Broadcaster, will showcase the XX Commonwealth Games to the world. In doing so, they will implement a training initiative that not only delivers great coverage of the Games, but makes an investment in Scotland's media industry by creating opportunities for hundreds of students who will gain valuable skills and experience at a vital time in the beginning of their careers. Its positive impact promises to be felt for many years to come."
Alistair Shirlaw, 27 is at the Glasgow Clyde College Cardonald Campus. He said: "I have been working as a freelance camera operator for over a year and I have spent my life chasing the dream of being able to work in the industry. Being involved in the Commonwealth Games would not only be a dream come true, it would also hopefully get my foot firmly in the door of the television industry."
Student Andrew Richardson, 22 is taking the Masters Course in Broadcast Journalism at the Hamilton Campus of the University of the West of Scotland. He added: "Sport is a massive part of my life, so the chance to work at the Commonwealth Games with the HBTI is a fantastic opportunity. For those who are just starting out and trying to break into the industry, it's the first step on the ladder and a foot in the door. Not many students in broadcasting are lucky enough to experience such an important event coming to their home town as they try to develop a career."
Laurence Howells, interim Chief Executive of the Scottish Funding Council, said: "This is a brilliant opportunity for students to get training and hands-on experience before putting their skills to use as part of the teams who will be bringing us broadcast coverage of the Glasgow 2014 Commonwealth Games. We are delighted to provide the funding to allow these students to get the skills and experience they need which will give them the best chance to get many of the jobs on offer with host broadcasters next year."
Educational institutes involved include Dundee and Angus College, North East Scotland College, Edinburgh College, West College Scotland, Perth College UHI, Glasgow Clyde College, Glasgow Kelvin College, City of Glasgow College, Fife College, Edinburgh Napier University, University of Stirling, Glasgow Caledonian University, University of West of Scotland.
Jeff Foulser, Chairman of Sunset+Vine, said: "The HBTI will see participating students given real skills training in how to use the latest Outside Broadcast (OB) hardware equipment and technology, as well as real work experience in live broadcast, creative production. The intention is that these students will reach sufficient proficiency through their pre-Games education to be deployed during the Games itself, providing an invaluable skills legacy for the broadcast and television production industry in Scotland beyond Glasgow 2014."
Grant Ritchie, Creative Loop Chairman, said: "Creative Loop is delighted to be delivering this world-class training for young broadcast specialists from colleges and universities across Scotland. Participation in the HBTI will be limited to those students already enrolled on designated courses within the institutions, but this is a very exciting opportunity for anyone who gets Involved."
Damien Yeates, Chief Executive of Skills Development Scotland said: "SDS is delighted to support this initiative. TV production in Scotland is expected to grow over the coming years so it is crucial that we develop the skills in our young people that will enable them to take up opportunities in this exciting industry."
Notes to editors
Background
For more information on the Scottish Government's Legacy 2014 programme, see www.legacy2014.co.uk, YouTube content available at - http://youtu.be/aCjUN-jgqvo
The Scottish Funding Council is providing funding of up to £224,000 towards the additional costs associated with delivering specialist pre-Games training. In addition, the SFC is offering up to £250,000 to deliver a Professional Development Award (PDA) for up to 250 students. Skills Development Scotland is providing funding of £60,000 to support the training programme. The funding is in addition to the substantial investment in equipment and expertise from SVGTV and their suppliers, worth approximately £1 million.
The HBTI is also receiving support from Sector Skills Council, Creative Skillset through the Creative Skillset TV Skills Fund (TVSF) which supports training organisations to deliver courses and development activities that will benefit the UK television industry.
SVGTV brings together Sunset+Vine and Global Television as the Host Broadcaster of Glasgow 2014 during which they will be responsible for providing HD television coverage of 11 days of competition from 19 venues. The Host Broadcaster is also responsible for the International Broadcast Centre which serves as the hub for all Commonwealth Games broadcasting activity, handling incoming pictures and sound from venues and distributing footage to international rights holders.
Creative Loop is Scotland's talent development hub for the creative media industries. Creative Loop works with Scotland's colleges, universities and key strategic partners to bridge the gap between education and industry. www.creativeloop.org