25/09/13 10:14
Great Seal of Scotland goes on public display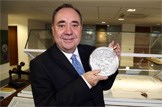 First Minister views the Great Seal and opens refurbished Registers of Scotland HQ
First Minister praised Registers of Scotland (RoS) for "safeguarding the world's oldest public register of property rights" today as he officially opened its new headquarters.
The £6.2 million refurbishment will enable the RoS to meet the demands of modern Scotland and showcase important historical artefacts.
Employing 953 staff in Glasgow and Edinburgh, including 14 modern apprentices this year to date, RoS has been able to move out of expensive leased premises and into a modern facility that offers a bespoke Customer Service Centre and exhibition area under one roof.
Scotland was the first country in the world to have a public register of property rights and the new exhibition space will showcase historic artefacts from its 400 year history, such as the iconic Great Seal of Scotland also referred to as the Scottish Seal.
RoS records and safeguards the property rights of the individual whilst providing open access to register data, such as producing the official property statistics for Scotland. The World Bank uses registers of property rights and indemnified property ownership as one of the key measures of a stable economic country and in 2013, 411,000 applications for registration are expected to be processed, generating a typical annual income of £53 million.
As the Keeper of the Great Seal of Scotland, the First Minister met Sheenagh Adams, Keeper of the Registers of Scotland and Deputy Keeper of the Great Seal of Scotland, ahead of the first ever public exhibition of the Great Seal at Meadowbank House as part of Doors Open Day this weekend.
First Minister Alex Salmond said:

"Registers of Scotland safeguards the world's oldest public register of property rights and can lay claim to other world firsts. I'm delighted to officially open the refurbished Meadowbank House, which looks ahead to a RoS fit for a 21st century Scotland.
"As well as adopting modern working practices, RoS actively employs modern apprentices and I enjoyed meeting some of them today at Meadowbank House. I'm sure the new exhibition space will grow public appreciation of RoS and the important work carried out.
"The Great Seal of Scotland will be one of Scotland's famous items on public display at the exhibition. There are frequent references to the Great Seal in Acts of Parliament of Scotland as far back 1398, and to this day legislation approved at Holyrood must 'pass under' it.
"As Keeper of the Great Seal of Scotland, it's remarkable to consider the many policies it has enshrined in law over its 600 year history – and the life-altering policies it will continue to bear witness to in years to come.
"The Great Seal of Scotland is the earliest seal of a Scottish King, first used in 1094, and is a notable historic artefact from Scotland's past. I hope as many people as possible take advantage of the Doors Open Day this Saturday to visit Meadowbank House and see the Great Seal of Scotland for themselves."
Keeper of the Registers of Scotland Sheenagh Adams drove forward the decision to carry out the work, extending the life of the building by at least 25 years. She said:
"Across the public sector we are looking at ways to make our working environments as efficient and economically sustainable as possible and that aim has definitely been achieved with this project. The team behind our extension and refurbishment of Meadowbank House should be rightfully proud after creating a modern, future-proof building within the set budget and timescale.
"Times have certainly changed since this building first opened its doors in 1976, when most of our work was carried out on paper and the modern, map-based Land Register was yet to be introduced. In 2013, we're preparing for the implementation of new legislation that will bring land registration into the digital age and impact upon everyone involved in land and property."
Notes to editors
For more information on Doors Open Day visit: www.doorsopendays.org.uk.
The Great Seal of Scotland is the two-plate silver mould – known as a matrix – used to create a wax seal that is attached to official documents to confer royal assent by the reigning Monarch. All Royal Warrants are superscribed by the Monarch of the day. One side of the Seal features the reigning Monarch and the other side, the Royal Arms as used in Scotland.
A number of functions disappeared under the Act of Union, which technically abolished the Great Seal but appointed a Seal to be kept and used in place of the Great Seal. It is this seal that is generally referred to as the Scottish Seal though technically it is referred to as "Her Majesty's Seal appointed by the Treaty of Union to be kept and used in Scotland in place of the Great Seal of Scotland."
RoS is a non-Ministerial Department and operates as a Trading Fund covering expenditure primarily through the fees that are charged for registration and information services. RoS will provide the collection function of Land and Buildings Transaction Tax for Revenue Scotland from April 2015.
RoS holds 17 public registers including: The Land Register of Scotland; Register of Great Seal; Register of Community Interests in Land; and, the Register of Crofts.