03/03/15 10:30
Growing Scotland's Economy – Scotland aims to join Europe's best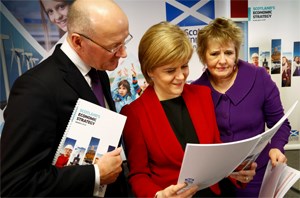 First Minister launches Scotland's Economic Strategy.
The First Minister today set out the Scottish Government's Economic strategy which will combine work to boost economic growth and increase competitiveness with a drive to tackle inequality.
Setting out the Scottish Government's ambition she said that having significantly improved productivity and reduced the gap with the rest of the UK since 2007, the Scottish Government's ambition now is to see Scotland match the productivity levels of the strongest economies in Europe.
The strategy which focuses on investment, innovation, internationalisation and inclusive growth reinforces the Government's long term vision for Scotland's economy which is based on a fundamental principle - by becoming a fairer society, we will also become a more productive and more prosperous economy.
Relatively small changes in Scotland's long term economic performance can have important implications for output and employment. For example increasing Scotland's total factor productivity by just 0.1 percent per annum could boost GDP by 1.3% and in turn boost employment by 11,000 and tax revenue by £400 million a year after 10 years.
The First Minister, Deputy First Minister and Cabinet Secretary for Fair Work launched the strategy on a visit to a successful Scottish business, Calnex Solutions in Linlithgow.
Calnex are a Scottish success story. They are a Scottish owned SME that tests equipment for the telecommunications industry and are world leaders in their industry. They were set up in 2006 with Scottish Enterprise's support and now export 95% of their products overseas.
Speaking at Calnex Solutions First Minister Nicola Sturgeon said:
"Scotland's economic recovery is now well established: our economy has grown continuously for two years, GDP is above pre-recession levels and the economic outlook is the strongest it has been for many years.
"The Scottish Government wants to create a stable and balanced economy that is outward looking, confident, innovative, based on the core strengths of our people and supported by investment.
"Today's strategy draws on international evidence and is endorsed by independent experts. It offers a vision, not just of our economy, but also of our society, which I believe will command wide support from businesses, the trade unions, the third sector and many others. And it sets out the policies and measures which will help to achieve that vision.
"By taking action to increase exports, build on our historic reputation for innovation, invest in infrastructure from child care facilities to broadband and create more inclusive growth through fair work we can take Scotland's economic competitiveness to the next level.
"We have significantly reduced the gap in productivity between Scotland and the UK since 2007. I now want to see Scotland match the productivity levels of the strongest economies in Europe. And as our Strategy also makes clear, we believe it is vital Scotland maintains its place in the European Union, with access to the biggest free trade zone in the world and to more than half a billion potential customers for Scottish goods and services.
"All of us know that Scotland is a country of vast potential. We have a strong international reputation; great natural resources; and the most highly educated workforce in Europe. It is time to stop inequality from holding us back. Instead, we must help individuals and companies to flourish, in every part of the country."
The strategy provides a plan for all of Scotland and focuses on four main themes – Investing in our people, Innovation, Inclusive Growth and Internationalisation.
Investing in our people, infrastructure and assets through
preparing young people for employment through widening access to higher education and extending a wide range of high quality learning through the implementation of Developing Scotland's Young Workforce;
the establishment of a Scottish Business Development Bank to work directly with small and medium-sized enterprises and the financial markets to support businesses with high growth potential in Scotland;
providing £10 million in 2015-16 through the Local Energy Investment Fund to invest on behalf of communities in commercial renewables schemes; and
publishing a refresh of Scotland's Oil and Gas Strategy, which will have a strong focus on the structure and capability of Scotland's oil and gas supply chain.
We will foster a culture of Innovation by:
establishing a new Ministerial-led Innovation Forum;
supporting the network of Innovation Centres to apply knowledge and innovation from our academic research base into business;
piloting Innovation and Investment Hubs at key global locations.
Promoting innovation in the public sector which can support the economy.
We will promote Inclusive Growth through:
driving forward improvements in educational outcomes in Scotland's most disadvantaged communities with an Attainment Scotland Fund of £100 million;
establishment of a Fair Work Convention to draw on best practise and facilitate a joint approach with our partners;
support for a more diverse workforce by removing barriers to employment - for example, lack of childcare or support for caring responsibilities; and
introducing the Scottish Business Pledge, which aims to develop a partnership between the Scottish Government and businesses.
To enable Scotland to take advantage of International opportunities we will:
develop a new Trade and Investment Strategy; and
establish One Scotland Partnerships, which will set clear trade and innovation goals for specific international markets and ensure that activity is co-ordinated to maximise impact and make the best use of resources.
publish an updated International Framework, which will set the context for how the Government, its Agencies and Public Bodies engage externally to promote Scotland – its economy and broader interests – and influence the world around us;
Deputy First Minister John Swinney said the strategy showed what could be achieved but also what more could be delivered with further powers for the Scottish Parliament.

"In each of the key areas of innovation, investment, inclusive growth and internationalisation there are powers and responsibilities that remain at Westminster which could help us to achieve more and better jobs.

"Our ambition is for the Scottish parliament to have the full powers of any normal nation – however our particular focus in the coming years will be on achieving those powers that help us to deliver on our economic ambitions – to boost competitiveness and to tackle inequality."

Cabinet Secretary for Fair Work, Roseanna Cunningham added:

"We know that a strong economy is essential in building a fair and wealthy society. But the reverse is also true. It is now widely accepted that a society that is fair and equitable underpins a strong economy. Our Programme for Government has a broad range of measures focused on focus on ensuring sustainable economic growth, building a fairer society and tackling inequality.
"Scotland's Economic Strategy builds on this good work and focuses on the dual and shared objectives of boosting competitiveness and promoting fairness to the benefit of all."
Notes to editors