29/05/14 09:57
Growing Scotland's farm climate scheme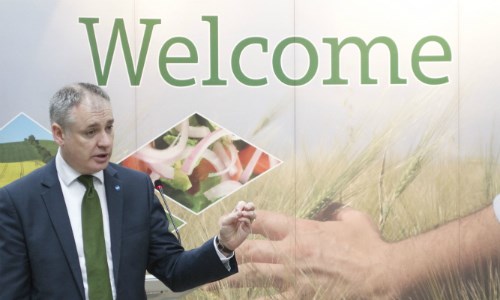 Additional funding to expand programme.
A scheme to develop climate friendly farming methods that can save farmers money and help reduce their carbon footprint is to benefit from additional Government funding.
Rural Affairs Secretary Richard Lochhead has announced another £100,000 for the Scottish Government's Farming for a Better Climate programme which has resulted in lower carbon footprints and significant financial savings for the first Focus Farms to take part.
The extra cash will double the number of Focus Farms from four to eight. It will also provide farmers with practical advice on adapting to our changing climate through better soil management and field drainage.
Speaking on a visit to Easter Howgate Farm near Penicuik, where he welcomed three new Climate Change Focus Farmers, Mr Lochhead said:
"Our climate is changing and it is the responsibility of each and every one of us to do what we can to mitigate its negative impact. The Scottish Government is firmly committed to tackling climate change and lowering overall emissions in Scotland, of which approximately a fifth is from our agriculture industry.
"Initial results from our Farming for a Better Climate scheme show that the Focus Farms are making big financial savings and lowering their carbon footprint at the same time.
"In light of this great success, I have taken the decision to increase the budget for this pioneering scheme by £100,000. This will be used to double the number of Focus Farms from four to eight, and I am delighted to be able to welcome three new Climate Change Focus Farmers here today.
"With the forthcoming publication of the Scottish Climate Change Adaptation Programme these funds will also be used to help farms adapt to our changing climate . The wetter weather we have experienced in recent years means better soil management and drainage is a must for Scottish farms. This funding will enable Scotland's Rural College to offer more soil management and drainage demonstration events, which have been heavily oversubscribed."
The Rural Affairs Secretary also launched Scotland's Rural College's new Carbon Footprint calculator. The free online tool, called AgRECalc, allows farmers to estimate their resource use and greenhouse gas emissions to improve profitability and reduce their environmental impact. He added:
"My ambition is for every Scottish farm to be greener, and this AgRECalc is a free and easy-to-use online tool which will enable farmers to pin point where savings can be made."
New Climate Change Focus Farmer, John Kerr who farms at Woodhead in Newmilns, Ayrshire said:
"I am looking forward to being part of this project, by focussing on farm efficiency. The plan at Woodhead is to look at ways to increase the yield of the herd without compromising milk solids. We are also very interested in looking at renewable energy opportunities as we look to reduce costs and develop new income streams into the business. Hopefully this initiative will help us reduce costs, improve output and reduce greenhouse gas emissions."
Notes to editors
Farming for a Better Climate was launched in 2010 and provides practical advice to farmers on measures they can take to reduce emissions and adapt to the impacts of climate change. The additional £100,000 funding announced today bring total Scottish Government to £373,000 per year.

Analysis published last year showed that the first three Climate Change Focus Farms saved almost £60,000 between them in the first three years of the pioneering programme, whilst two of the businesses reduced their carbon footprint by at least 10 per cent: http://news.scotland.gov.uk/News/Reaping-the-rewards-5db.aspx
Climate Ready Scotland – Scotland's Climate Change Adaptation Programme builds resilience and capacity to adapt to changes in Scotland's climate. The Programme objectives provide a framework for everyone in Scotland to contribute towards their delivery within their own organisation, business or community.