18/03/14 11:00
Healthy roots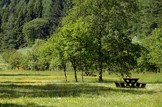 New strategy to protect plant health.
A plan to protect a £1.6 billion sector of Scotland's rural economy is being developed.
The Scottish Plant Health Strategy will set out measures to safeguard agriculture, horticulture, forestry and the wider environment from pests and diseases.
Covering parks and gardens, agricultural and horticultural crops, forestry, nurseries and garden centres, the wider environment and nature conservation sites, the strategy will:
raise awareness of plant health
clarify roles and responsibilities amongst Scottish agencies, industry organisations and the wider public to tackle pests and diseases
identify key priorities for Scottish plant health
Environment and Climate Change Minister Paul Wheelhouse made the announcement at the Scottish Plant Health Event at Science and Advice for Scottish Agriculture (SASA) in Edinburgh.
Mr Wheelhouse said:
"Plant health is the root of Scotland's thriving natural environment and booming rural economy.
"However, the number of plant health threats is rising, and the spread of these has been exacerbated by aspects of globalisation and climate change. The development of a Scottish Plant Health Strategy in response is essential, and this will be hugely beneficial to tackling the challenges. It will also make clear that no single measure in isolation can rule out the threat of pests and diseases.
"Those sectors exposed to plant health threats are worth a combined £1.6 billion annually to Scotland's economy and, in addition, our successful £13.1 billion turnover food and drink growth sector also relies on healthy plant life, so the importance of this strategy is very clear.
"It is imperative that we have all the interested parties working together to support Scotland's natural environment and the industries depending on it, and this new strategy is a key step forward to ensure effective collaboration."