15/01/14 10:58
International Touring Fund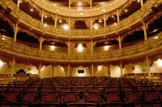 Support for Scottish productions in North America and the Far East
Audiences in North America and Asia are set to enjoy music and theatre productions by two of Scotland's national performing companies in early 2014.
Culture Secretary Fiona Hyslop today confirmed Scottish Government backing of £30,000 for the USA and proposed tour to Canada of "The Strange Undoing of Prudencia Hart" by the National Theatre of Scotland.
The National Theatre of Scotland also receives funding of £50,000 towards its first major tour to Shanghai, Hong Kong and Taiwan in April and May, in a co-production of David Greig's "Dunsinane" with the Royal Shakespeare Company. The production will also be visiting Moscow in Spring 2014. This funding will also support a tour of the play to venues in the USA in 2015.

Ms Hyslop also announced an additional £7,000 for the Scottish Chamber Orchestra's tour of the Far East in February, including appearances in Japan, Hong Kong and Korea led by Principal Conductor Robin Ticciati.
The funding comes from the Scottish Government's International Touring Fund which supports the five National Performing Companies in promoting Scotland's cultural excellence internationally.
Fiona Hyslop said:
"Scotland is home to exceptional artistic talent with a growing International reputation for producing excellent cultural performances. Our national companies are particularly well-regarded for the high quality of their work - these latest allocations will ensure even more audiences can appreciate and enjoy their performances and what Scotland has to offer"
Productions which have already received International Touring Fund support in 2013-14 include Scottish Ballet's A Streetcar Named Desire (USA) and Highland Fling (Hong Kong, Scottish Opera's BabyO and SensoryO (New Zealand and Hong Kong) and American Lulu (Austria), and a sell-out concert by the Royal Scottish National Orchestra (Aix en Provence, France).
Laurie Sansom, Artistic Director of the National Theatre of Scotland said:
"I am thrilled our co-production of Dunsinane, with the Royal Shakespeare Company, continues to be in demand with audiences and that it will be playing in 2014 on an international stage.

"The presentation of David Greig's sequel to Macbeth in East Asia and Russia is an ambitious undertaking for the National Theatre of Scotland, and the Scottish Government's International Touring Fund has been instrumental in enabling the Company to showcase an outstanding piece of large-scale Scottish theatre, like Dunsinane, to a global theatre audience.
"I am also delighted that the National Theatre of Scotland's much loved production of The Strange Undoing of Prudencia Hart, will continue her epic journey overseas, with a tour of North America in 2014, due to the vital financial support from this same fund.
Roy McEwan, Scottish Chamber Orchestra chief executive, said:
"We are extremely grateful to the support the Scottish Government has shown to help the international reputation of the Scottish Chamber Orchestra go from strength to strength, and we are immensely proud to continue to develop our role as cultural ambassadors for Scotland in our tour to the Far East.

"We have already achieved great awareness in Hong Kong, Japan and Korea through sales of our award-winning recordings and this tour will build on and sustain this success. Preparations for the tour start with our 40th birthday concerts in Edinburgh and Glasgow conducted by Principal Conductor Robin Ticciati with world-renowned pianist Maria João Pires. The same team combines in two concerts at one of the premiere festivals in the world, the Hong Kong Arts Festival, along with performances in Nagoya, Hyogo, Tokyo and Seongnam."
Notes to editors
The International Touring Fund supports the international touring activity of Scotland's five National Performing Companies. The Scottish Government has provided annual funding of £350,000 since April 2007, and funding of £310,000 from the 2013-14 International Touring Fund has already been announced.
For more information about the National Performing Companies and their activities, go to:
http://www.scotland.gov.uk/Topics/ArtsCultureSport/arts/Sponsored-bodies