17/02/14 11:00
Investment supports delivery of £200m Haymarket site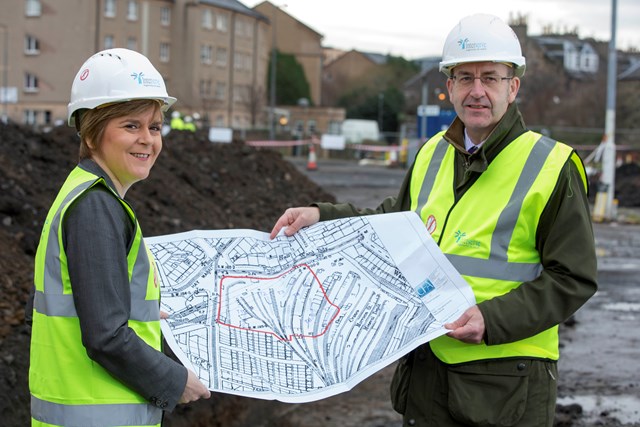 SPRUCE Fund to facilitate first phase of development.
A £9.6 million investment has been agreed to progress a £200 million multi-purpose development which will create thousands of jobs in Edinburgh.
Deputy First Minister Nicola Sturgeon visited the site, called The Haymarket, today (Monday) to welcome the SPRUCE (Scottish Partnership for Regeneration in Urban Centres) Fund investment, which has been established with Scottish Government and European Regional Development Fund money.
The investment will supplement the significant initial investment made by Interserve to get the project started.
The Haymarket will transform the currently derelict former goods yard next to Haymarket Station into a 650,000 sq ft multi-purpose development, regenerating the area and supporting around 300 jobs during construction.
When complete, the joint venture between Interserve and Tiger Developments will include office and retail space, a hotel and a two storey underground car park and create around 3,200 jobs.
The SPRUCE investment, which is critical to the delivery of the site, is facilitating the first phase of work. This includes site preparation and the strengthening of two railway tunnels as well as archaeological excavations which are now underway.
During her visit the Deputy First Minister met with representatives from Interserve and Amber Infrastructure, who manage the SPRUCE fund, to see the archaeological work now underway.
Ms Sturgeon said:
"The Haymarket is one of the biggest commercial property projects to take place in Edinburgh and will substantially regenerate this part of the capital, transforming derelict land and creating thousands of jobs and opportunities for growth.
"Significant city centre developments such as this one are central to stimulating economic growth across Scotland. It is vital that we support opportunities for new business to help create new jobs and also encourage inward investment to Scotland.
"The Scottish Government's investment through the SPRUCE fund has acted as a catalyst for the regeneration of this site. Without this investment crucial remedial work could not go ahead. In parallel, through the Scottish Cities Alliance, we are working to increase investment and deliver more jobs and businesses across all our cities and their regions.
"Once complete, this fantastic multi-purpose site will provide much needed high spec office and retail space for the city as well as a new hotel for visitors. This will allow Edinburgh to continue to compete effectively with other large cities – and help to attract companies from across the globe."
David Westwater, Interserve Development Director said:
"We are pleased that the SPRUCE Fund is investing alongside Interserve in this exciting project. We are delighted that work has begun on site to prepare for construction above ground and the Scottish Government's welcome contribution has been pivotal in helping the development to progress.
"Its support underlines that this is one of the most significant regeneration schemes in the UK outside of London and that is further reflected in the very strong interest shown by the business community already.
"The Haymarket will create a new commercial focus for this vital gateway, creating investment and jobs for the long term benefit of the whole city."
Cameron Cook, Head of Origination for Amber Infrastructure in Scotland, said:
"This is an exciting phase in the development of one of Edinburgh's largest commercial development projects in the last ten years.
"We are delighted to realise SPRUCE's funding ambitions in helping to develop social and economic infrastructure in Scotland. It demonstrates Amber's unparalleled JESSICA fund management expertise and our growing presence in the region.
"We are committed to investing in regeneration and energy efficiency projects that will provide long-term benefits to local communities throughout Scotland."
Notes to editors
The £50m Scottish Partnership for Regeneration in Urban Centres (SPRUCE) Fund is a JESSICA (Joint European Support for Sustainable Investment in City Areas) UDF (Urban Development Fund) that helps fund regeneration and energy efficiency projects within 13 eligible areas of Scotland.

The Scottish Government has contributed £26 million matched to £24m of European Regional Development Funds, to establish the fund which will offer loans and equity investment to revenue generating projects.
The total development costs of the first phase of works at the site at 189 Morrison Street, Edinburgh are £29.5m of which SPRUCE will provide £9.6m.
JESSICA is a European Commission policy initiative developed jointly with the European Investment Bank which advises authorities on using and implementing urban development funds.