04/02/15 09:30
Land reform consultation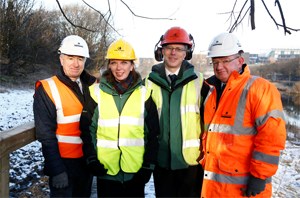 One week left to have your say.
With less than a week to go in the consultation on the future of land reform, Land Reform Minister Aileen McLeod, has today urged the public not to miss out in making their views known.
The land reform consultation sets out a range of proposals to establish a Land Reform Commission, seeking views on modernising how Common Good should be managed, used and transferred, improving transparency and accountability of land ownership and the removal of business rate exemptions for shooting and deerstalking estates.
During a visit to Cuningar Loop in Glasgow, the Minister saw how an innovative partnership in the public sector is transforming a neglected landfill site into a valuable community asset.

Dr McLeod said:
"Cuningar loop in Glasgow is a great example of how public agencies have taken a piece of derelict land and are transforming it into a fantastic area of greenspace with many benefits for local people.
"Land is one of our most valuable assets, land and landowners across Scotland already make significant contributions to our economy and deliver a wide range of benefits to our communities.
"Our vision for land reform is a strong relationship between the people of Scotland and the land of Scotland, where ownership and use of the land delivers greater public benefits.
"We are committed to a system of land rights that promotes fairness and social justice, environmental sustainability and economic prosperity. The future of land in Scotland is not just relevant for rural communities, urban communities also want to see a change in how Scotland's land is managed.
"With less than a week to go in the consultation period, I would urge all those with an interest in how land in Scotland works for the people of Scotland to response to the consultation by 10th February."
Brent Meakin, Forest District Manager with Forestry Commission Scotland added:
"Cuningar Loop is a tangible and powerful example of how we are making the best use of our land.
"The landfill site was made from the rubble of the Gorbal's demolition. With some innovative thinking and public support, it will become a green oasis in the heart of Glasgow."
Notes to editors
Close to Dalmarnock, Farme Cross and Rutherglen, Cuningar Loop is transforming 15 hectares of derelict land on the River Clyde into an attractive woodland park. When completed later this year, it will feature woodland trails, a bikepark, activity centre and bouldering area. The project is being managed by Forestry Commission Scotland with support from Clyde Gateway and South Lanarkshire Council.
The Cuningar Loop is a £5.7 million Legacy 2014 project located opposite the former Commonwealth Games village.
The consultation document can be found at: http://www.scotland.gov.uk/Publications/2014/12/9659

The consultation closes on the 10th February.