07/03/14 10:00
New care home fire safety guide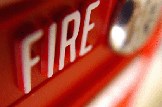 Making Scotland's care homes even safer.
Important new guidance aimed at reducing the risk of fire in Scotland's care homes was launched today.
The revised information is designed to assist care home owners and staff to fulfil their fire safety duties.
It follows the tragic fire at Rosepark Care Home in Uddingston which claimed the lives of 14 residents and demonstrated the importance of fire safety in such homes.
The Scottish Government put revised guidance in place following that fire, which was praised by the Sheriff Principal in the findings of a fatal accident inquiry into the tragedy in 2011.
However, the Scottish Government gave an undertaking to further revise this guidance to take account of a small number of issues raised at the inquiry. In addition, the guide has been substantially edited to make it more user-friendly and take account of comments received during a public consultation exercise.
Along with the guide, the Scottish Fire and Rescue Service (SFRS) is finalising a new agreement with the Care Inspectorate to further improve joint working on fire safety.
Community Safety Minister Roseanna Cunningham said:
"It is essential that we do everything we can to protect often-vulnerable residents of Scotland's care homes from the risk of fire.
"We have taken the opportunity to develop a substantial revision of the Scottish Government's fire safety guidance to provide an improved guide which is practical and easy to use.
"We support the strengthened partnership working between SFRS and the Care Inspectorate to ensure fire safety measures at care homes are regularly inspected, information shared and any issues quickly addressed.
"We hope this will give residents and their families peace of mind and prevent further tragedies from occurring."
The guidance is available as a PDF or on the Scottish Government website.
www.scotland.gov.uk/Publications/2014/03/1383
Notes to editors
Note for editors
After the fatal accident inquiry into the fire, the Sheriff Principal described the existing Scottish Government's fire safety guidance for care homes as:
"……the clearest guidance to those who would seek to administer and regulate care homes in Scotland.
"It represents a significant and appropriate response by Scottish Ministers to the issues which have been raised by Rosepark."