27/01/14 09:30
New HM Inspector of Constabulary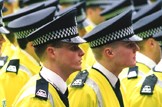 Former Assistant Chief Constable Derek Penman is to be appointed Her Majesty's Inspector of Constabulary (HMIC) for Scotland.
As HMIC for Scotland, Mr Penman will be responsible for planning and leading an annual programme of inspection, monitoring and evaluating the performance of Police Scotland and the Scottish Police Authority. The post will assure the continued delivery of high quality policing to Scotland's communities and drive continuous improvement.
Mr Penman will also be a source of professional independent advice on police matters, publishing reports of inspections and producing an annual report to Ministers on the police service in Scotland.
Prior to his appointment, Mr Penman was an Assistant Chief Constable for Police Scotland with responsibility for Local Policing in the North of Scotland as well as holding the national criminal justice and custody portfolios. He succeeds George Graham whose term of employment has ended.
The appointment is made by Royal Warrant and is for a period of three years. It is entirely independent of Government, police and the Scottish Police Authority.
Announcing the appointment, Justice Secretary Kenny MacAskill said: "The HM Inspector of Constabulary plays a key role in ensuring Scotland's police perform their duties to a high standard, and I am very pleased that we have someone with Mr Penman's background and skills in the post. I have no doubt that he will prove a vital asset in driving forward the continued improvement we expect from Police Scotland."
Mr Penman said: "I am delighted to be taking on the role of HMIC and leading the independent inspection of policing in Scotland in a way that adds value and provides reassurance to our communities that policing - both local and national - remains effective and efficient."
Notes to editors
Mr Penman will take up his official duties on January 31.
HM Inspector of Constabulary for Scotland is the senior professional police adviser to Scottish Ministers. The statutory duties of HM Inspector of Constabulary are set out in Chapter 11 of the Police and Fire Reform (Scotland) Act 2102.
Mr Penman has almost 30 years' experience within the police service, joining Central Scotland Police in 1984. A University of Glasgow law graduate, he has held a variety of posts within Central Scotland Police, including secondments to both the Scottish Police College and HM Inspectorate of Constabulary. In December 2007, he was appointed Temporary Assistant Chief Constable, with responsibility for all aspects of operational policing and performance. In June 2008 he was appointed Assistant Chief Constable, Crime and Specialist Operations, with Grampian Police. In January 2011, he returned to Central Scotland Police as Deputy Chief Constable and in November was appointed Temporary Chief Constable. He was appointed as Assistant Chief Constable within Police Scotland in April 2013.