28/01/14 15:13
New homes for Bathgate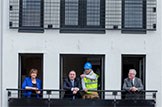 Almost £1 million affordable housing investment.
The Scottish Government will invest almost £1 million which will provide an additional 35 new affordable homes for rent in Bathgate, First Minister Alex Salmond announced today.
This funding is part of the Government's investment of £1.3 billion in the Affordable Housing Supply Programme (AHSP) over the 2012-16 period and this contribution will provide funding for affordable housing in a high pressured housing market area.
The First Minister made the announcement during the first of the Cabinet's public discussion events on Scotland's Future in Bathgate.
As outlined in Scotland's Future, there will be opportunities for more investment in affordable housing in an independent Scotland. Full flexibility over Scotland's budgets, only available through independence, will enable future Scottish Governments to:
• Broaden action to make more affordable housing available to alleviate homelessness and tackle fuel poverty
• Take action to further improve the quality of housing
• Explore different ways of supporting first time buyers
The First Minister said:
"Housing is a priority for this Government and we will continue to invest in new affordable homes across Scotland.
"We have boosted our budgets for new affordable homes considerably and in the period between April 2012 to March 2016, investment in affordable housing will exceed £1.3 billion.
"Today's announcement will allow for the completion of 35 affordable flats in Bathgate, which will not only provide high-quality homes, but also support the local construction industry. There are at present about 15 people working on site, but this number will peak to around 45 when the site becomes fully operational.
"We are doing all we can to facilitate the industry's recovery, deliver more affordable homes for people across Scotland and protect and create jobs.
"We are on track to delivering our commitment of 30,000 affordable homes during the lifetime of this Parliament despite the severe cuts to our budgets by the UK Government."
Mike Bruce, Chief Executive of Weslo Housing Management, said:
"Everyone knows how difficult it has been for local people to live on site in the current situation so Weslo Housing Management is absolutely delighted to play a part in the completion of this troubled development.
"There is a great demand in West Lothian for flats of this type and with the social allocations planned for April and completion of the mid-market block scheduled for September, we're all set to finally bring this project to a successful conclusion.
"This would not have been possible of course without the grant subsidy from the Scottish Government and input from West Lothian Council, and we're very grateful for that as well as the funding package from the Royal Bank of Scotland which allowed us to take this project forward."
Notes to editors
Weslo Housing Management, a Registered Social Landlord, is a private company, limited by guarantee with charitable status.
The project will deliver one block of 17 one and two bedroom flats for social rent and 18 one and two bedroom flats for mid-market rent at a cost of some £3 million – £963,000 from the Scottish Government and £2 million private funding from Weslo in a deal with Royal Bank of Scotland.