04/03/14 08:50
New support for women in business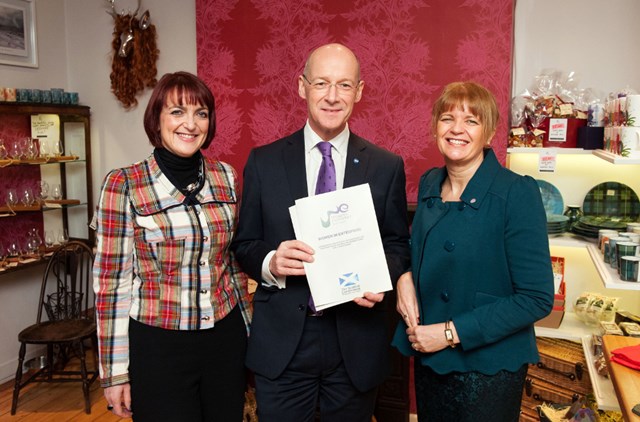 Measures will help to tackle the gender gap.
Entrepreneurial businesswomen are set to benefit from investment of £85,000, new women's enterprise ambassadors and an action plan to tackle the gender gap in business, Finance Secretary John Swinney announced today.
In the run-up to International Women's Day Mr Swinney unveiled two new schemes designed to help women start up or grow their own business and unleash their potential.
£50,000 of this investment will provide financial support to the Investing Women initiative which will help unlock the potential, market expertise, talent and knowledge of ambitious business women across Scotland.
While £35,000 will help establish the new women's enterprise ambassadors who will also act as role models and mentors for start-up and growth businesses, inspiring, motivating and connecting with female entrepreneurs.
This announcement comes on the back of Women's Enterprise Scotland survey results which revealed that 87 per cent of female led businesses are actively seeking to grow and results from the Scottish Government's EDGE fund where women account for 46 per cent of winners.
Finance Secretary John Swinney said:
"Scotland is a nation that is rich in talent with a great reputation in innovation and enterprise.
"We are working hard in Government to support and empower the longstanding entrepreneurial spirit of the Scottish people. Today's investments will help women entrepreneurs to grow their businesses, benefit from the advice from other successful business women and ultimately grow our economy.
"Women entrepreneurs already benefit from support through the EDGE fund and many benefit from other initiatives like the Small Business Bonus Scheme. We want to ensure that we are doing everything we can to help as many women as possible fulfill their entrepreneurial potential.
"It is clear that if we are to strengthen the recovery, we must tackle the gender gap in business. Research by Professor Sara Carter from Strathclyde University shows that the Scottish GDP could be boosted by over five per cent if we tackle the gender gap adequately. This is an opportunity for us all to ensure that women across the country are equipped with the confidence and support to reap the benefits of their enterprise."
Youth Employment Minister Angela Constance said:
"Today the Scottish Government shows its commitment to supporting women in business.
"Our people are our greatest asset and it is crucial, perhaps more now than ever, that we see their economic potential unleashed.
"Women across Scotland want to grow their businesses and I'm delighted that the Scottish Government can help them do that. It is inspiring to see so many successful business women who are playing a key role in growing our economy and keen to help others reach the same level of success."
Welcoming this announcement, Dr Margaret Anne Craig one of the new ambassadors said:
"I am delighted to be asked to be a business ambassador and role model for Women's Enterprise Scotland at the launch of their new Framework and Action Plan for Women's Enterprise.
"As CEO of Clyde Biosciences, I have made a major step from my career as an academic scientist to founding and leading a University spin-out company that designs world-leading technologies and services for international pharmaceutical companies. Taking on such a role has required tremendous courage and hard work, but the achievements both professionally and personally have been exhilarating.
"Over the coming months, I look forward to sharing my experience and encouraging more women to consider starting their own businesses and to point them in the direction of networks that will offer much needed support."
Chief Executive of Women's Enterprise Scotland, Margaret Gibson said:

"More women than ever are exploring the opportunity to start their own businesses. We all need to be mindful of providing the training, guidance and support that they require, and this work enables us to begin to deliver on this important economic activity."
Owners of Cranachan and Crowdie, Beth Edberg and Fiona McEwan said:
"We opened our business in May 2012, when we discovered a gap in the market for high quality Scottish food and drink. As a new business, we have faced many challenges, but with a lot of hard work our enterprise continues to grow.
"We are recognised as a unique retail experience because we have set ourselves apart by offering product ranges from small, local Scottish producers while providing world class customer service.
"As a growing business, support from other entrepreneurs would be invaluable, having someone to bounce ideas off, ask for advice and to learn from their experiences. The new female ambassadors will help and support businesses like us across Scotland."
Investing Women's Chief Executive, Jackie Waring said:
"There are no shortage of innovators and entrepreneurs in Scotland . This support package will help accelerate the growth of more women led companies, allowing them to realise their market potential. This is a wonderful opportunity to increase the funds available for investment in Scottish innovation."
Notes to editors
The new Scottish Framework and Action Plan for Women's Enterprise can be downloaded from http://www.wescotland.co.uk
The five new ambassadors are:
Dr Margaret Anne Craig, CEO of Clyde Biosciences, Glasgow: http://www.clydebiosciences.com/
Kirsteen Stewart, Owner of Kirsteen Stewart, Kirkwall, Orkney http://kirsteenstewart.co.uk/
Lynn Mann, Owner of Supernature, Midlothian http://www.supernature.uk.com/
Anja Baak, Owner of Great Glen Game, Roybridge, Inverness-shire http://www.greatglengame.co.uk/
Morag Malloy, Managing Director of Fission Creative, Paisley http://www.fissionc.com/

For more information on Cranachan and Crowdie visit: http://www.cranachanandcrowdie.com/
For more information on Women's Enterprise in Scotland visit: http://www.wescotland.co.uk/
For more information on Investing Women visit: www.investingwomen.uk.com