03/02/15 09:10
People power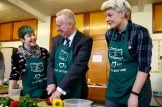 Additional £5.6 million for Scottish communities.
A fund which gives community groups the power to tackle poverty and inequalities in their areas has been given a £5.6 million funding boost.
Social Justice Secretary Alex Neil confirmed community-led regeneration will be given extra support through the People and Communities Fund (PCF), on a visit to the Broomhouse Health Strategy Group in Edinburgh.
The People and Communities Fund will be increased from £9.4 million to £15 million as it benefits from support through the dedicated £10 million funding for Empowering Communities announced by the First Minister last November.
This investment builds on the Government's commitment to giving people the power to take charge and make changes in their own communities.
The additional funding will be allocated to a variety of projects, including community groups who are promoting change in disadvantaged communities through training, employment, healthy eating and volunteering opportunities.
Mr Neil made the announcement ahead of this afternoon's Stage 1 Debate for the Community Empowerment (Scotland) Bill. He said:
"We know every community in Scotland has different needs, and that we all have our own ideas about how we can make our areas better.
"This Government recognises that by giving communities the power and confidence to shape their own futures, we can tackle poverty and address inequalities more effectively.
"Through the People and Communities Fund we will provide money direct to community groups to help them tackle local issues on their own terms.
"This new money will support the aims of the Community Empowerment (Scotland) Bill, which will give people a stronger voice in the decisions that matter to them and will help communities who wish to take over public land and buildings."
Since PCF launched in 2012, 156 projects have received funding worth £18.3 million those projects include the Broomhouse Health Strategy Group which was awarded almost £30,000 to run cookery and exercise sessions which encourage local people to make healthy lifestyle choices.
The sessions have helped increase self-esteem and confidence among local people, many of whom had never cooked a meal from scratch before, and it has supported their skills development with some developing the confidence to move into local volunteering roles.
Lucy Aitchison, from the Broomhouse Health Strategy Group said:
"It's been great to develop our health and wellbeing services, and you can see them making a real difference to people's lives.
"To give people the skills to be able to look after themselves and their family more healthily is really significant.
"We're so pleased to have the support to be able to address these local needs."