09/07/14 10:00
Putting town centres first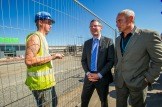 Plans to prioritise town centre investment.
The Scottish Government and COSLA are working together to encourage the public sector to continue to invest in their town centres and help communities thrive.
Local Government and Planning Minister Derek Mackay is calling on public bodies to sign up to the new Town Centre First Principle.
The Principle requests that public bodies such as local authorities, the NHS and Police Scotland weigh up the potential impact of closing town centre facilities, against the benefits of keeping their town centres healthy and vibrant.
Speaking on a visit to Barrhead in East Renfrewshire, which is one of the first local authorities to adopt the Town Centre First Principle, Mr Mackay said:
"Our town centres should be vibrant, attractive and safe places where local people want to spend their time and money.
"The Scottish Government made a commitment to recognise and prioritise the importance of town centres in our Town Centre Action Plan last year, and we are taking this one step further by introducing the Town Centre First Principle, and asking all public bodies to sign up.
"The Principle will encourage public bodies to put the health of town centres first and consider what impact any investment decisions, will have on them. In particular, when it comes to investment, public bodies adopting the principle are requested to consider town centre locations first, and look beyond immediate pressures when they are making decisions about closing a town centre facility.
"We understand that for some businesses or services the town centre may not be a suitable location, but in signing up to the Principle, public bodies will make sure the rationale for locating elsewhere is evidenced and transparent.
"It is encouraging to see our local authorities, like East Renfrewshire Council, applying the principle and recognising how important it is to regenerate our town centres. East Ayrshire and West Dunbartonshire Councils are also supporting this ethos by relocating their council offices into town centres.
"By working in partnership with local authorities, the wider public sector, private and community organisations, we can ensure our town centres are vibrant and are a focal point for the community."
Prioritising town centre investment was a key recommendation made by the independent Town Centre Review Group, led by Scottish architect Malcolm Fraser. The Scottish Government and COSLA responded to the call in the Town Centre Action Plan when it was launched in November 2013.
Councillor Stephen Hagan, COSLA Spokesperson for Development, Economy and Sustainability said:



"Undoubtedly town centre regeneration remains a priority for local authorities, along with partners in the wider public sector, businesses and communities themselves.
"To help reinvigorate Scotland's town centres a collective approach which understands the long term vision for each town centre is required, which will make our town centres fit and viable places to interact, do business, and access facilities and services.
"Given the importance of town centres to local communities across Scotland, we hope that the Town Centre First Principle is the first step in helping to ensure the viability of Scotland's town centres going forward."
Convener for infrastructure and sustainable growth, Councillor Tony Buchanan, said:
"Barrhead is the perfect example of town centre regeneration in action.
"There has been £80 million of East Renfrewshire Council-led regeneration in Barrhead town centre in recent years.
"The council built its second major headquarters on the Main Street, bringing jobs to the town. The first community health and care partnership HQ in Scotland is alongside it in the heart of the community, and there has been investment in improving the look of the main shopping areas, attracting both the public and business.
"Our new Barrhead Foundry will open early next year – an important community hub combining leisure, learning and business and employability services that we are investing £3.8 million in.
"And have been working with Asda to bring their new store to Main Street, which is due to open in August and will be an important local employer as well as bring people into the town centre.
"East Renfrewshire Council fully appreciates the difficulties facing towns and we have always been very proactive in our approach to supporting town centres. As well as the major masterplan developments in Barrhead, we have Business Improvement Districts in Clarkston and Giffnock, are developing a BID for Barrhead, we have Scotland's first renaissance town project in Neilston and other town centre partnerships across the entire council area.
"As a council we are signed up to the principle of Town Centre First – we need to do what we can to protect and grow our town centres for the benefit of everyone."
Malcolm Fraser of the Town Centre Review Group said:
"The Review Group was always concerned to avoid short-term fixes – the Hanging Basket principle – and look to change attitudes and policy upstream, at the heart of Government.
"To have the Government and COSLA working together to establish the Town Centre First principle across all levels of decision making is exactly the result we hoped for.
"I am delighted and, on behalf of the Review Group, hugely-welcome this announcement."
Notes to editors
The national review of town centres was published in July 2013. The independent group, chaired by leading Scottish architect Malcolm Fraser, made the recommendation that Scotland should adopt a Town Centre First Principle.
The Town Centre First Principle will be available to view at: http://www.scotland.gov.uk/Topics/Built-Environment/regeneration/town-centres/TheTownCentreFirstPrinciple
The Town Centre Action Plan which was published in November 2013 outlines the Scottish Government's commitment to town centres.
This included:
* Expanding the 'Fresh Start' business rates relief to apply to pubs, hotels and restaurants from 1 April 2014 and to increase the thresholds of the scheme from property with a rateable value of £45,000 to £65,000.
* £2 million towards a Town Centre Housing Fund to help bring empty town centre properties back into use.
* Powers for local authorities to establish Town Centre Investment Zones.



* £120,000 for Town Centre charettes – grants available to help deliver community design meetings specifically focused on town centres.
* Launching a competition for entrepreneurs to drive forward town centre regeneration ideas.