11/09/13 00:01
Queensferry Crossing to save £145 million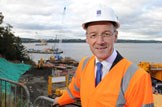 Queensferry Crossing scheme remains on course and under budget.
Finance Secretary John Swinney has today revealed that the overall cost of the Queensferry Crossing is set to be £145 million lower than previous estimates.
The new budget range for the Forth Replacement Crossing is £1.4 billion to £1.45 billion down from the previous range of £1.45 billion to £1.6 billion.
The lower cost is a result of successful management of the project and the delivery of key milestones. Confirming the new cost range ahead of setting out the Budget to the Scottish Parliament John Swinney said:
"It is very positive news for Scotland to be able to announce that the Scottish Government is further reducing the budget range for the Forth Replacement Crossing project to £1.4 billion to £1.45 billion.
"Over the last few years we have taken a deliberately Scottish approach to investing in infrastructure. We are supporting an investment led recovery in distinct contrast to the austerity agenda of the UK Government.
"Our approach has benefitted the Scottish economy which is now stronger than that of the UK. 90% of supply orders and nearly 60% of sub contracts have been awarded to 365 Scottish firms and currently around 874 people are currently employed on site.
"While there is no room for complacency, these latest figures also show that Scotland's biggest infrastructure project in a generation is being well managed. I commend all those involved for their hard work in this success so far, as construction continues on time and under budget.
"We are now two years into the project and progress so far means that £145 million worth of savings have been identified on the project since construction started in June 2011.
"This is further good news for Scotland and is testament to the efficient management and effective delivery of the project by Transport Scotland and its partners at the Forth Crossing Bridge Constructors consortium."
Notes to editors
The Forth Replacement Crossing project will construct the new Queensferry Crossing, including connecting road network
Work has been completed on the M9 Junction 1A and Fife Intelligent Transport System as part of the project
The budget for the Forth Replacement Crossing project to build the Queensferry Crossing has a set budget range of an upper and a lower limit. This had previously been set at £1.45 billion to £1.6 billion and has been revised to £1.4 billion to £1.45 billion
In 2007 estimated costs for a new bridge stood at £3.2 to £4.2 billion. In 2009 the managed crossing strategy expected costs of £1.7 to £2.3 billion for the project and when work commenced on the new bridge in 2011 the cost range was £1.45 to £1.6 billion
As of 30 June 2013, 216 out of 368 FRC subcontracts (59 per cent) have been awarded to Scottish firms and 152 (41 per cent) to non-Scottish companies
9,732 out of 10,758 supply orders (90.5 per cent) on the Principal Contract worth approximately £61 million out of a total of about £85 million (72 per cent) have been awarded to Scottish firms
365 Scottish firms have already benefited from subcontracts and supply orders on the project with a total of about £143 million out of a total value of about £368 million (39 per cent)
Across the project there are now over 874 people directly employed on building the Forth Replacement Crossing, with employment set to return to a peak of 1200 later in 2013.