30/01/14 09:56
Rearing young detectives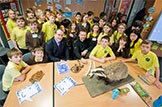 Online pack to educate children about wildlife crime.
Children will be taught about the impact of wildlife crime and how they can help combat the problem through a new online wildlife crime detectives' education pack.
The interactive pack will help to raise children's awareness of wildlife crime issues and increase their knowledge of legitimate countryside practices. Children will be encouraged to explore the moral issues surrounding wildlife crime while learning important safety messages.
The pack includes:
CSI-style wildlife crime activities
A link to an online video that provides an educational introduction to wildlife crime
A quiz and poster design challenge
A role play exercise to help children understand the effects of wildlife crime on those involved
This has been launched by the Partnership for Action Against Wildlife Crime (PAW) Scotland, following a successful initiative piloted last year by the former Grampian Police Force, where hard copies were distributed to schools in Aberdeen City, Aberdeenshire and Moray, reaching a potential 15,000 children.
The merger of Scottish police forces into the new Police Scotland and increasing use of internet resources in schools has enabled the pack to be re-developed for use as an online resource.
This pack will benefit schools, youth groups, wildlife groups and others looking to further understand the crimes that threaten wildlife and the environment.
The Minister for Environment and Climate Change and chair of PAW Scotland, Paul Wheelhouse, today launched the online education pack at Bonaly Primary School in Edinburgh.
The Minister was on hand to talk to a group of pupils about wildlife crime, along with a local wildlife crime officer from Police Scotland, who demonstrated some of the activities in the pack, and illustrated with a selection of traps and illegally traded wildlife products.
Mr Wheelhouse said:
"This new education pack provides an interactive way to educate and excite young people about our wildlife and help them to understand the damaging effects wildlife crime can have on Scotland's animals, birds and habitats and why the eradication of wildlife crime is in the public interest.
"It will also encourage pupils and teachers to think more about our role in protecting our natural environment and instil an appreciation and set of values which will resonate with them for years to come."
Police Scotland Wildlife Crime Coordinator, Sergeant Andy Mavin said:
"Police Scotland have specialist Wildlife Crime Officers who investigate crime and enforce legislation, however crime prevention through education and awareness raising also plays a vital role in reducing criminality. Hopefully the messages delivered through this education pack will be long lasting, in both the children who use the pack and the educators who deliver it."
Andy Turner, Scottish National Heritage, who developed the pack while he was a Wildlife Crime Education Officer with the police said:
"The use of this type of educational resource is an effective way of raising awareness of the threats posed to our wildlife, countryside and the people who access it, by wildlife crime. I'd encourage anyone with an interest in environmental education to make use of the Wildlife Crime Detectives pack."
Notes to editors
Background

The education pack is available online at: http://www.scotland.gov.uk/Topics/Environment/Wildlife-Habitats/paw-scotland/Resources/wildlife-crime-detectives
The Partnership for Action Against Wildlife Crime (PAW) Scotland includes the police, conservationists, land managers and government agencies, who have come together to fight wildlife crime in Scotland.

All activities have been designed to link with the Curriculum for Excellence. The pack was developed by Andy Turner of Scottish Natural Heritage, during his time as a Wildlife Crime Education Officer with the police. It was developed in association with interpretation consultants Pica Design.