18/12/13 09:31
Record number of women in employment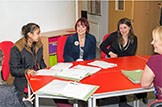 Scotland outperforms other nations of the UK.
The number of women in employment in Scotland has reached a record 21-year high, according to official figures published today by the Office for National Statistics (ONS).
The statistics show falling unemployment and increasing employment in Scotland over the quarter to August-October 2013.
Employment rates have now increased for 11 consecutive monthly releases. Over the past year, the employment level in Scotland increased by 83,000. The number of women in employment has reached 1,233,000, which is the highest figure since the series began in 1992.
The number of individuals claiming Jobseekers Allowance has fallen for 13 consecutive months. There are 23,300 fewer individuals claiming Jobseekers Allowance than a year ago.
Scotland's youth employment rate continues to be higher than the UK and the youth unemployment rate remains lower than the UK.
Other Scottish Government statistics released today show that private sector employment has increased by 75,800 over the year to quarter three 2013.
Finance Secretary John Swinney said:
"These figures are another positive sign that employment in Scotland continues to increase and that Scotland's economic recovery is ongoing. Scotland has a higher employment rate, lower unemployment rate and lower inactivity rate than England, Wales or Northern Ireland.
"Consistent growth in employment shows that the policies of the Scottish Government to create jobs and boost the economy are making progress.
"And while Scotland is outperforming the rest of the UK, the Westminster government's continued pursuit of austerity, as outlined in the recent Autumn statement, remains a threat.
"Even with the limited powers over the economy at our disposal, the country's economic health is improving. With the full fiscal and economic powers of independence, we can take a different approach focused on maintaining and building sustainable economic growth, do more to strengthen our economy and create jobs."
Minister for Youth Employment Angela Constance welcomed the figures during a visit with Minister for Children and Young People Aileen Campbell to Rathbone Edinburgh's new city centre headquarters, where work is underway to improve youth employment opportunities across the capital.
Having led a recent debate on Women and Work in the Scottish Parliament, Ms Constance said:
"This is very welcome news which follows the Scottish Government's action to tackle the barriers faced by women seeking employment that prevent them from contributing to Scotland's economic growth.
"Within the scope of the powers we currently have, we are taking steps across all areas of Government to help women progress in the workplace. This includes our CareerWISE initiative to encourage more young women to pursue a career in science, technology and engineering and encourage more women to start their own businesses.
"We are also working to improve opportunities for women through Modern Apprenticeships and are working closely with Carers Scotland to develop a kitemark scheme for employers who support unpaid carers in their workforce. However, we know there is still much more that needs to be done.
"That's why the role women play in our labour market is at the heart of our blueprint for independence 'Scotland's Future – Your Guide to an Independent Scotland'. The Scottish Government's commitment to a universal childcare system would further significantly help raise women's participation in the labour market, increasing flexibility and opening the door for more women in the workplace."
Notes to editors
The latest ONS labour market statistics are available from:
http://www.ons.gov.uk/ons/taxonomy/index.html?nscl=Labour+Market
The Scottish Government uses Labour Force Survey (LFS) data published by ONS to measure youth unemployment and employment. This is the most timely source of data on young people's performance in the labour market and is the main source used for reporting at the UK level. The Annual Population Survey (which combines results from the LFS and the English, Welsh and Scottish LFS boosts) provides more reliable annual estimates but is not available on such a timely basis.
Quarterly public sector employment in Scotland statistics are available from: