15/01/14 06:35
Review of wild fisheries management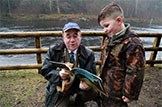 First Minister announces review at opening of 2014 salmon fishing season.
Scotland's management of salmon and freshwater fisheries must be 'robust, sustainable and fit for purpose in the 21st century', First Minister Alex Salmond has said.
The Scottish Government has now asked outgoing Scottish Natural Heritage Chairman Andrew Thin to chair an independent review of wild fisheries management in Scotland.
The aims of the review are to:
Develop and promote a modern, evidence-based management system for wild fisheries fit for purpose in the 21st century and capable of responding to our changing environment.
To manage, conserve and develop our wild fisheries to maximise the sustainable benefit of Scotland's wild fish resources to the country as a whole and particularly to rural areas.
The First Minister made the announcement at the official opening of the 2014 salmon fishing season on the River Tay, where he spoke of the importance of wild fisheries to Scotland.
Mr Salmond said:
"We are committed to supporting and protecting Scotland's famous and valuable salmon and freshwater fisheries. Game and coarse angling is worth £134m in expenditure to Scottish economy, supporting 2,800 jobs across the country. Wild Scottish salmon is a premium food product which has PGI status.
"However, management of wild fisheries is complex and emotive area which has been the subject of multiple reports and investigations over the last 50 years, but, until recently, has seen little meaningful change.
"The Aquaculture and Fisheries Act has modernised governance and management of salmon fisheries, but as Scottish Ministers acknowledged during the passage of the Act we must do more to ensure the system for all our wild fisheries is robust, sustainable and fit for purpose in the 21st century, as well as being able to respond to the changing environment.
"I am happy to announce the next stage is to undertake an independent review of the management of wild fisheries in Scotland. This review is about looking forwards, not backwards and will be founded on what is required to ensure a sustainable wild fishery in Scotland. I am sure everyone with an interest in salmon and freshwater fisheries and their sustainable future will want to engage with Andrew Thin and the review process in a productive and co-operative way, and I would encourage them to do so."
Andrew Thin said:
"I am delighted to be taking up this task. This is an important time for a sector that is of huge importance to Scotland. Those who work in it are some of the most committed and dedicated that I know, and I am very much looking forward to working with them."
Dr Alan Wells, Policy and Planning Director for the Association of Salmon Fishery Boards commented:
"We welcome the announcement of the review of fisheries management. In Scotland, we are in a very fortunate position of having salmon entering our rivers in nearly every month of the year.
"During the Parliamentary passage of the Aquaculture and Fisheries Act a number of questions relating to funding, salmon conservation, exploitation and management were identified as being key issues to be covered by the review, and we look forward to engaging with this process in a positive and constructive manner."
While attending the official opening of the 2014 salmon season in Dunkeld, Mr Salmond said:
"Scottish rivers such as the Tweed, Tay, Dee and Spey are synonymous with salmon fishing, attracting many anglers from across the country and around the globe.
"I am looking forward to celebrating the first cast on the Tay for salmon in this momentous year for Scotland. I wish all who fish in Scotland well for the coming season."
Notes to editors
The structure and remit of the group will be announced by Environment Minister Paul Wheelhouse and Mr Thin. Mr Thin will start his work in March when his appointment at SNH has come to an end. It is anticipated that the Review will take around six months and report to Ministers thereafter.