18/06/15 10:00
Rural skills qualifications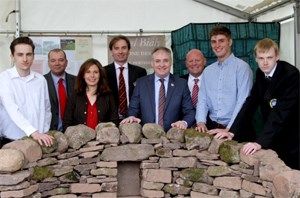 New vocational courses to launch this year.
Brand new formal qualifications in rural skills are set to open for applications later this year, Rural Affairs Secretary Richard Lochhead has announced.
Backed by Scottish Government funding, the SVQ Level 2 and Level 3 courses will offer up to 20 students per year work-based training in all aspects of estate maintenance and estate management, including gamekeeping, forestry and factoring as well as heritage conservation.
The qualifications, the first of their kind in Scotland, have been developed by Scottish Land & Estates together with Rural Skills Scotland and mark a significant step towards a Rural Skills Modern Apprenticeship for diverse land-based businesses.
Mr Lochhead said:
"Having a skilled workforce is key to unlocking Scotland's economic potential, and having more skilled jobs in rural areas will help these communities thrive by creating opportunities for our young people to stay and make a decent living.
"I am extremely pleased to confirm Scottish Government support for these new qualifications, which are a great way for those seeking to start or develop a career in land management to learn the necessary skills for use on any type of estate - be it private, community-owned or third or public sector."
The SVQs will be integral to the Rural Skills Learning Ladder developed by Scottish Land & Estates, which aims to support skills development, progressive and meaningful career paths in the rural sector, as well as providing resources to raise awareness of rural land issues for use by schools.
David Johnstone, chairman of Scottish Land & Estates, said:
"The qualifications were developed following feedback from employers and employees on the business needs of modern integrated estates along with difficulties faced by those in rural areas who wanted to undergo training and skills development. We are delighted to see the qualifications come to fruition. We hope that the programme will open up a number of opportunities for people to formalise their knowledge, progress in their careers or consider a new career path in the land based sector.
"The qualifications are only one part of Scottish Land & Estates' Rural Skills Learning Ladder and we look forward to working with the Scottish Government, Imbewu Scotland, Rural Skills Scotland, Historic Scotland, LANTRA and others to inspire young people to pursue rural careers and to ensure that we deliver career progression for those involved in the sector."
Historic Scotland, Rural Skills Scotland and Scottish Land & Estates have signed a Memorandum of Understanding to promote the SVQ Level 2.
Stewart Christie, Chairman of Rural Skills Scotland, said:
"Rural Skills Scotland Ltd. is delighted to be involved in today's celebration event. Working in partnership with Scottish Land & Estates we have worked hard to develop the SVQ Level 2 Estate Maintenance and in doing so have produced a qualification which directly reflects the needs of rural employers.
"Not only does it provide an opportunity for those already employed in the land-based sector to formalise their skills, but it also gives new entrants to the sector the opportunity to gain a nationally recognised qualification that employers will value. The significant benefit of this qualification is that it is entirely work based and can be tailored to meet the needs of both the employer and the learner. The support and endorsement from both Scottish Land & Estates and Historic Scotland to date has been invaluable for us as an organisation and we look forward to continuing our partnership with them."
David Mitchell, Historic Scotland's Director of Conservation, said:
"Historic Scotland is very aware of the vital role that estate and other rural workers play in conserving, repairing and maintaining Scotland's rural built heritage. To that end I am delighted we are working with Scottish Land & Estates and Rural Skills Scotland to ensure that the vocational qualifications being developed in this area will equip people with right skills and knowledge to undertake these works, to ensure that traditional buildings continue to contribute to the sustainable economic growth of Scotland's rural economy."
Notes to editors
The SVQ Level 2 Qualification in Estate Maintenance will open for application in September and is being delivered by Rural Skills Scotland. Anyone interested in finding out more should contact enquiries@ruralskillsscotland.com
The SVQ Level 3 Qualification in Estate Management will open later this year, and will be delivered by Scotland's Rural College (SRUC).
The Scottish Government is providing £71,000 support for the qualifications.
Scottish Land & Estates is a membership organisation mainly comprising private landowners and estates with a wide range of landholdings. The organisation strives to demonstrate, promote and represent the good work and contribution our members make on farms, landholdings and estates across Scotland - to both the communities to which they belong and also to the wider economy and society. Organisations, general rural businesses and professional firms with rural interests are trade and professional members.
Scottish Land & Estates' Rural Skills Learning Ladder activity aims to support skills development and progressive and meaningful career paths in the rural sector, as well as inspiring young people to consider a rural career.