20/01/14 10:00
Scheme helps hundreds onto property ladder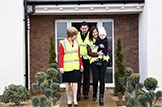 High demand for Help to Buy (Scotland).
More than 1200 households have applied to the Scottish Government's Help to Buy (Scotland) scheme, with over 200 already in new homes, since the scheme launched on September 30, 2013.
Deputy First Minister Nicola Sturgeon today met with new homeowners Phil and Joanne MacFarlane at Dawn Homes Group, Glasgow and gave an update on the success of the £220 million shared equity scheme.
Official figures show that 1,205 applications were received by the New Year for the scheme, which provides financial support to make buying a home easier.
From the launch in September until January this year, 203 households have so far successfully gained a mortgage and bought new homes through the initiative.
Help to Buy (Scotland) is open to all first time buyers and to existing homeowners buying a new build home from participating home builders. To date, 109 house builders have signed up, with five lenders offering mortgages under the scheme.
Ms Sturgeon said:
"There is no doubt that getting onto, or moving up the property ladder has become tougher in recent years, which is why our Help to Buy (Scotland) scheme is crucial in helping more households take that step.
"Large deposits are often a major barrier to would-be homeowners and it is fantastic to see the first results of our Help to Buy scheme, which has already helped almost 200 households into home ownership since it launched in September.
"Help to Buy (Scotland) is not only helping people buy their first home, it also helps 'second-steppers' and others move to a new property and the popularity of the scheme is evident through the 1200 plus applications that have been received so far.
"The scheme is also helping stimulate economic growth by supporting our housing industry - alongside our commitment to investing in affordable housing across Scotland."
The Scottish Government is providing help to eligible buyers of up to 20 per cent of the purchase of a new build home from a participating house builder.
Phil, 31 an IT Manager at Hamiliton College and his wife Joanne, 31 a data analyst have used Help to Buy to buy a four bedroom home in Kilsyth, Glasgow.
Speaking about the Help to Buy Scheme, Phil said:
"We found out about the scheme through a friend who is also moving house using Help to Buy. We just moved in to our new home two weeks ago, Help to Buy allowed us to purchase our family home much sooner than we could ever have imagined.
"The process was very straightforward and hassle free, we would highly recommend this scheme to others. We would also like to thank Dawn Homes for all their assistance and making our dreams a reality.
"We feel blessed we have been given the opportunity to buy this home, which without the Help to Buy scheme, we would not have had, and hope to create many happy memories here as a family."
Chief Executive of industry body Homes for Scotland Philip Hogg said:
"With the new year leading many to consider a fresh start in a new home, the Help to Buy shared equity scheme is proving that it is possible for those buyers to realise their home owning aspirations without the difficulties caused by large deposit requirements. This is demonstrated by recent statistics which indicate that over 1000 applications have been received in just a few months since the scheme launched.
"It builds upon the success of the MI New Home 95 per cent mortgage guarantee scheme, and represents another valuable tool offered by the new build sector to assist those looking to move onto and up the housing ladder. Indeed, it has already demonstrated its 'game changing' impact since launch last September, acting as a positive indicator for industry recovery.
"However, there are still a number of barriers to recovery such as supply-side issues which need to be addressed if output is to increase to the levels required to meet housing need.
"We therefore look forward to working alongside the Scottish Government to address these issues and seeing the Help to Buy scheme grow further as it continues to stimulate the building of much needed new homes, supporting vital jobs, skills and apprenticeships as well as boosting the wider economy along the way."
Martin Egan, Managing Director of Dawn Homes said:
"The introduction of Help to Buy in Scotland, coupled with a growing sense of optimism in the housing market, has provided a significant upturn in new home sales activity.
"This month alone, 10 of the 25 sales completions at Dawn Homes have been successfully delivered through the Help to Buy scheme. This represents 40 per cent of our sales transactions and shows that this flagship policy is having the desired effect in stimulating the construction economy, as well as providing wider economic benefits."
Notes to editors
To qualify for Help to Buy (Scotland) the home must be a buyer's only residence and they must not own another home.
Since the scheme was introduced, 21 applications (2 per cent) have been declined and 62 applications (5 per cent) have been withdrawn.

For more information on Dawn Homes please visit: www.dawn-homes.co.uk