17/04/15 10:05
Scotland: a fair work nation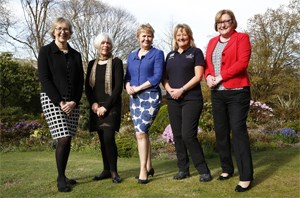 Fair Work Convention ready to begin work.
The membership of the new group tasked with promoting a fairer workplace has today been confirmed by the Scottish Government.
Business leader Linda Urquhart and former STUC President Anne Douglas will co-chair the independent Fair Work Convention which will aim to ensure there are more good quality, well-paid jobs at all levels throughout the public, private and third sectors.
The Convention will develop a fair employment and workplace framework for Scotland by March 2016 that articulates a practical blueprint for implementing fair work.
Tasked with learning from national and international research and leading edge practice, the Convention will provide independent advice to the Scottish Government on all matters relating to Fair Work, including:
Progressive workplace policies which improve productivity and innovation
Employee voice, engagement and lifelong learning
Best practice in industrial relations to encourage constructive dialogue in a range of different sectors and workplaces
Enhanced discussions between unions, employers, public bodies and Government departments
Potential extension to collective and sectoral bargaining in Scotland
Increased levels of gender equality and workplace democracy across the private, public and third sectors
The Living Wage and other aspects of fair remuneration
The Convention was a key recommendation from the Working Together Review and will meet for the first time on April 30, where it will formally agree the detail of its remit.
Cabinet Secretary for Fair Work, Skills and Training Roseanna Cunningham said:
"The Working Together Review, published last year, made a number of recommendations which aim to improve productivity and enhance economic growth while at the same time making our workplaces fairer and more equitable environments.
"The First Minister underlined the importance of these principles by committing us to the formation of a Fair Work Convention and I am very pleased to announce the talented, driven people who will work towards making Scotland a Fair Work nation.
"Co-chaired by Linda Urquhart and Anne Douglas, two women who have excelled in their respective fields, a strong mix of business and union relations will meet for the first time later this month, and will look to agree a number of long term goals.
"People must feel valued, rewarded, engaged in their work and be allowed to feel they have a stake in the success of their workplace, their community and their country.
Anne Douglas said:
"I am proud to be part of the Fair Work Convention. The Convention gives business the potential to thrive through its workplaces becoming more inclusive, productive and innovative by allowing employees to become more motivated and involved. Good work is implicit to fairness and with the benefit of the knowledge and expertise of not only committed and passionate Board members but also Professor Patricia Findlay, we have the opportunity to make a tangible, positive difference to Scotland, its businesses and its people."
Linda Urquhart said:
"I am delighted to be involved in the Fair Work Convention. Our work is an opportunity to build an evidence-based, practical approach for how organisations can be more productive and successful and increase competitiveness by promoting fair work practices and making the best use of the talent of our people. In our work we will recognise that much of Scotland's business community and third sector is made up of small and medium sized organisations and will look for pragmatic ways in which they can all engage with and benefit from the fair work agenda."
Notes to editors
The full make-up of the Fair Work Convention is as follows:
Co-Chairs
Anne Douglas, former STUC President
Linda Urquhart, Chair, Morton Fraser
Members
Mary Alexander, Deputy Regional Secretary – Scotland, Unite
Lilian Macer, Scottish Convenor, Unison
Bernadette Malone, Chief Executive, Perth and Kinross Council
John Reid, General Manager, Michelin
Henry Simmons, Chief Executive, Alzheimer Scotland
Grahame Smith, General Secretary, STUC
Academic Support will be provided by Patricia Findlay, Director of the Scottish Centre for Employment Research at the University of Strathclyde.