16/07/14 09:31
Scotland's economy grows to record level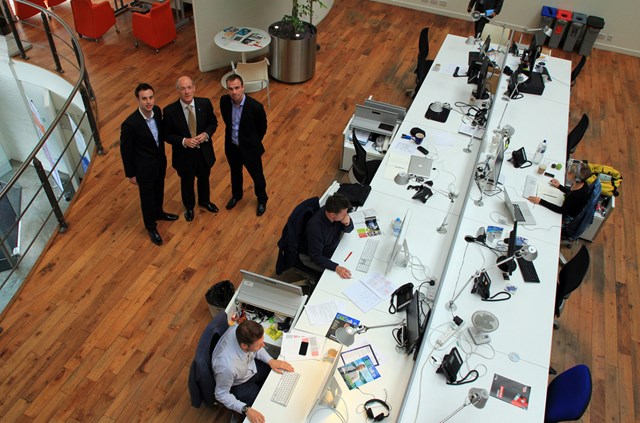 Pre-recession peak surpassed with record levels of employment.
National Statistics published today by the Scottish Government and covering the first quarter of 2014 show that Scotland's economy has now grown past its pre-recession peak to a new record level.
Scotland's GDP grew 1.0 per cent over the quarter, faster than the UK as a whole. Output in Scotland is now 0.4 per cent above its pre-recession level. The UK figure for quarter one was still 0.6 per cent below pre-recession levels.
Alongside these GDP figures, ONS labour market data published today and covering the period March-May 2014 show that employment in Scotland increased by 76,000 over the year to reach a record 2,587,000.
Employment in Scotland has now increased over the quarter for 17 consecutive monthly releases, the longest ever unbroken run of increasing quarterly employment. Scotland's employment rate (73.3 per cent) remains higher than for the UK as a whole (73.1 per cent).
The female employment level also reached a record high of 1,249,000. Scotland has a higher female employment rate (69.7 per cent vs 68.1 per cent) than the UK as a whole.
The size of the (16+) labour force increased by 25,000 over the quarter, indicating an increasing number of people entering the jobs market to look for work. Whilst the employment level increased by 12,000, this also explains in part the increase in unemployment over the quarter of 13,000.
Overall, the unemployment rate has fallen by 0.6 percentage points over the year and by 1.0 percentage points over the last 2 years. In addition the claimant count figures for June 2014 fell by 4,000 to under 100,000 for the first time since 2008, indicating continued improvement in labour markets.
Across the EU, the average economic activity rate (15-64) was 72.1 per cent in Jan-Mar 2014. Today's ONS data for Scotland show that the economic activity rate (16-64) in Scotland is now 78.8 per cent.
Responding to the latest labour market and GDP figures Finance Secretary John Swinney said:
"Today's figures mark an important stage in our recovery.
"These positive output figures show that Scotland's economy continues to go from strength to strength with growth of 1.0 per cent over the quarter and 2.6 per cent over the year – the fastest annual growth in over three years.
"Nearly six years on from the start of the financial crisis, our economy is now larger than before the downturn. Output in Scotland is at record levels and we have exceeded our pre-recession peak at least one quarter ahead of the UK.
"Over the last quarter the improvement in our economy has been broad-based with welcome signs of growth in manufacturing which was up 3.4 per cent and services which account for over 70 per cent of our economy up 0.9 per cent.
"Today's output figures are supported by new labour market data which show employment has reached a new record in Scotland with our economic activity rate also hitting a record high.
"As the economy recovers more people are moving from inactivity into the labour market to look for employment. With this boost to economic activity it is not surprising that both employment and unemployment have risen over the quarter – albeit unemployment is still down over the year.
"These figures support the emerging body of evidence which all point to the recovery in Scotland continuing to gather momentum.
"Monday's Bank of Scotland's PMI survey indicated that private sector activity in Scotland expanded for the 21st consecutive month in June whilst the Fraser of Allander, ITEM Club and PWC have all revised up their forecasts for growth this year.
"There can be no doubt that Scotland has the economic potential to be an independent country. With the full powers of independence we could do more to get people into work, ensure everyone in Scotland is able to benefit from our national wealth and give employers access to the skills they need to grow their business strengthening our economy and creating jobs."
Cabinet Secretary for Training, Youth and Women's Employment Angela Constance said:
"While today's figures show growth in Scotland's economy, our ambition is to do better than to simply return to pre-recession levels of economic performance.
"It is encouraging that female employment continues to increase markedly with a higher employment rate than the rest of the UK.
"Although we continue to do better than the UK in terms of employment rates amongst young people and 90 per cent of school leavers are in positive destinations, our youth unemployment rate remains too high.
"This is why we support the principle outlined in the report last month by the Commission for Developing Scotland's Young Workforce, that links between schools, colleges and employers can be strengthened, to be more aligned to student and business needs."