23/09/14 10:15
Scotland's memorial to organ and tissue donors unveiled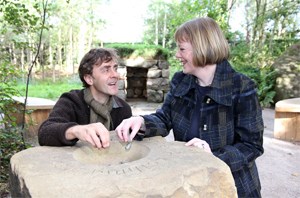 Commemorative space created in Edinburgh's Royal Botanic Garden
A new national memorial dedicated to Scotland's organ and tissue donors was officially opened to the public today by Public Health Minister Michael Matheson.
Situated in the Royal Botanic Garden Edinburgh, the memorial provides a lasting tribute to those Scots who saved or improved the lives of others by making the decision to donate their organs or tissue after death.
Scottish artist Alec Finlay created the memorial, working with donor families, transplant recipients and health professionals.
It features a dry-stane 'taigh' (Gaelic for 'house') with a turf-roof, which seals in a set of river stones. Buried under the foundations is a memorial book containing the first names of every organ and tissue donor between 2006 and late 2013. This 'wilding garden' is also home to two circle poems and a 'font' containing pebbles collected from beaches around Scotland.
Today Public Health Minister Michael Matheson visited the Scottish Government-funded memorial and met with donor families and transplant recipients involved in its development.
He said: "This memorial is a fitting tribute to the selfless generosity of organ and tissue donors and their families who, at a time of great tragedy, honour the wishes of their loved-ones. Through this act of kindness many lives are saved and it is right that this is marked through a public memorial.
"A very peaceful space has been created in this quiet corner of the Royal Botanic Garden Edinburgh, which offers people the opportunity to reflect on the remarkable gift of organ and tissue donation. I hope that everyone whose lives have been touched in some way by donation can find peace and solace by visiting this memorial."
Alec Finlay said: "Organ and tissue donation touches many people: as an act of giving that passes between the dead and the living, it speaks to our values as a culture. I've been touched and honoured to share the task with so many people, from surgeons, to families, to the artist collaborators and gardeners who helped make the final artwork."
Simon Milne MBE, Regius Keeper, the Royal Botanic Garden Edinburgh, said: "This is a very inspiring and thought provoking project. Alec Finlay's remarkable memorial sits beautifully in a tranquil and contemplative part of the Garden in keeping with its purpose and symbolism. It is our hope that our visitors will be moved to reflect on what organ transplantation and donation means to the lives of so many people."
At the memorial the Minister met with husband-and-wife, Sandra and Craig Warden, who donated their 11-year-old daughter Rachel's organs and in doing so, saved three lives.
Sandra said: "Giving someone the gift of life is so very important. Having this national memorial, set within these beautiful gardens, recognises and remembers all those who provided that gift of life to others.
"This memorial is for the families of donors, for transplant recipients and anyone whose lives have been touched by donation and transplantation. From when she was very young, Rachel understood organ donation and made me promise we would donate her organs if anything ever happened to her and we fulfilled her wishes."
Background
Another Scottish memorial for organ donors, the Loveseat, is situated in Glasgow's Kelvingrove Museum and Art Gallery. It was established in 2000 and is fashioned out of native Scottish hardwoods. Until April 2014, a silver leaf was attached for every deceased organ donor in Scotland however very little space remained on the seat for future commemorative leaves, prompting the creation of the new national memorial.
In 2013/14, 106 people in Scotland donated their organs after death. Over the same period, 341 organ transplants were carried out in Scotland from deceased donors, an increase of around 62 per cent since 2007/8.
As of 5 September 2014 2,153,197 people living in Scotland had made their organ donation wishes known by joining the NHS Organ Donor Register. This represents 40.5 per cent of the Scottish population
To register as an organ donor, call 0300 123 23 23 or visit www.organdonationscotland.org
Notes to editors
Photos available on request.