13/08/15 13:30
Scottish Canals Board meets gender target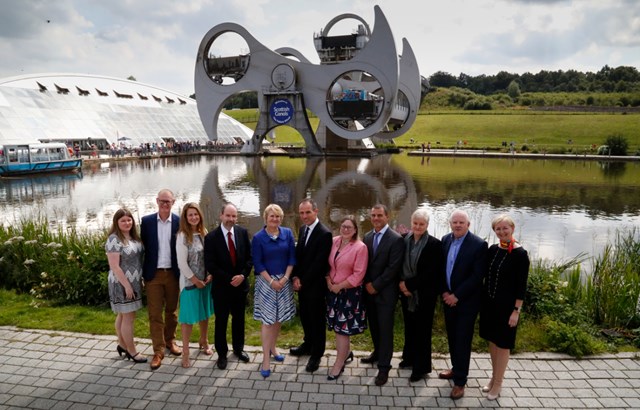 Board and Management Team boast 50:50 split.
Scottish Canals has become the latest public body to meet the First Minister's recent call for all boards in Scotland to achieve a 50:50 gender split by 2020.
Fair Work Secretary Roseanna Cunningham today (Thursday) joined the Scottish Canals Board and Management Team at the Falkirk Wheel.
Dr Deborah Benson and Cathie Bankier have been appointed to the board following a recruitment exercise encouraging applications from a wider range of people bringing more diverse experience.
It follows First Minister Nicola Sturgeon's call at the end of June for companies, third sector organisations and public sector bodies to make a commitment that by 2020, 50 per cent of their board members will be women.
Fair Work Secretary, Roseanna Cunningham said:
"This Government has shown that we are leading the way in making major and lasting progress towards true gender equality. Diversity throughout a company or organisation gives that body a much wider understanding of staff, business partners and customers or clients.
"The wider the pool of experience you draw from, the more possibilities you are likely to consider. I am really keen to hear from both Scottish Canals Board and Management Team what their experience has been so far and the ambitions for the future.
"Like the waterways and iconic landmarks like the Falkirk Wheel, Scottish Canals staff are a valuable resource and I am delighted to join them to celebrate becoming one of our 50:50 boards."
Tanya Castell, Vice-Chair of the Scottish Canals Board, said:
"Scottish Canals is committed to encouraging and celebrating diversity throughout the organisation and we're immensely proud to have achieved the Scottish Government's 50:50 target before 2020 in both our board and management teams.
"Scotland's canals pass through the nation's biggest cities and some of its most remote villages, attracting a huge number of users from all walks of life. From twenty-something cyclists on their morning commute to young families exploring the outdoors and mature boaters enjoying a life afloat, our inland waterways are many things to many people.
"The diversity of our board and management team allows us to harness a wide range of skills, strengths, knowledge and experience to ensure everyone, no matter their age or gender, is able to make the most of the incredible assets of the nation's inland waterways."
Ninety per cent of Scotland's public bodies, 45 organisations in the third sector and 18 private companies have now signed up to meet the Partnership for Change commitment by 2020.
Notes to editors
Currently women make up just 38 per cent of regulated public bodies' boards and are less likely to enter senior management positions, and figures show men are paid on average nine per cent more than women for doing the same job. For more on the Partnership for Change, launched on June 25 by the First Minister, visit here.
There are a number of bodies whose boards are gender balanced. Other boards that have at least 50 per cent female members include Mobility and Access Committee for Scotland, Healthcare Improvement Scotland, Accountant in Bankruptcy, NHS Education for Scotland.