13/10/13 11:15
Scottish influence on Indian restoration of ancient site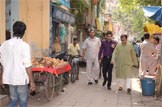 Minister visits urban renewal initiative inspired by pioneering Scottish town planner Patrick Geddes.
External Affairs Minister Humza Yousaf today highlighted Scotland's influence on the unique restoration of a UNESCO World Heritage Site in India.
Mr Yousaf visited the Nizamuddin urban renewal initiative in New Delhi – a project to revitalize the Mughal Emperor Humayan's 16th century tomb. The tomb pre-dates the Taj Mahal and is considered the jewel of Mughal architecture.
Part of the Aga Khan Historic Cities Programme, the project will also restore historic monuments and open spaces in the nearby Sunder Nursery and urban village of Nizamuddin Basti.
During a tour of all three sites today with Mr Ratish Nanda, Projects Director of the Aga Khan Trust for Culture, and Mr Farhad Suri, former Mayor of Delhi, Mr Yousaf heard how the project is influenced by the pioneering town planner Patrick Geddes (1854-1932), who believed it was important to consider how people relate to places.
Renowned for his work to improve the slums of Edinburgh in the 19th century, Geddes was invited by the Governor of Madras to advise on urban planning issues in Indian cities. His theories are still being followed today by those leading the Nizamuddin Urban Renewal Initiative.
More recently, in 1999 the Project Director Ratish Nanda worked with Historic Scotland for six months before he joined the Aga Khan Trust for Culture. Earlier this year Programme Officer Archana Saad Akhtar came to Scotland to study and understand heritage management practices at Scotland's historic sites.
Mr Yousaf said:
"It was amazing to see first-hand the excellent conservation work being carried out at the urban village of Nizamuddin and understand how it is bringing together a range of capabilities to establish a model for participatory conservation-led development of historic cities.
"This visit was also a great opportunity for Scotland to share knowledge about our own building conservation work, including our commitment to sourcing local materials whenever possible and training apprentices in traditional building skills so that we can preserve our precious historic environment.
"It has been truly remarkable to come to one of the world's ancient heritage sites to see a project of this scale and ambition and to learn that it is founded on advice that came from someone so significant in Scotland's own rich history.
"The Scottish Government shares Patrick Geddes' belief that preserving historic buildings and urban renewal is vital for the vitality of our communities."
Mr Nanda said:
"The Nizamuddin Urban Renewal project couples major conservation efforts with socio-economic development. The urban conservation approach is significantly informed by Patrick Geddes teachings. My own time at Historic Scotland, working on historic graveyards, gave me a deep understanding of materials which has been very useful for the work on Humayan's tomb - a predominantly sandstone building. We look forward to fostering further partnerships with Scotland following the Minister's visit."
Notes to editors
The Nizamuddin Urban Renewal Initiative is part of the Aga Khan Historic Cities Programme, which promotes the conservation and re-use of buildings and public spaces in historic cities such as Cairo, Kabul and Lahore.
Hazrat Nizamuddin Basti, west of Humayun's Tomb, dating back to 13th century, is a compact, self-contained district with a high count of landmark structures. These include the tomb of the renowned sufi saint, Hazrat Nizamuddin Auliya, after whom the area was named and the mausoleum of Mughal Emperor Humayun, built in 1565 AD, which was established as the exemplar for Mughal architecture in the context of scale, style, setting and craftsmanship. It was inscribed by UNESCO as a World Heritage Site in 1993.

The project maintains the authenticity of the original design in both form and material substance by employing hundreds of master craftsmen working with traditional building materials. It will seek to improve living standards in the Nizamuddin Basti, enhancing visitor experience and the area's value and significance.
Sunder Nursery is located in the heart of the national capital and is barely two kilometers away from the ceremonial central axis of New Delhi. The landscape master plan aims to create a major landscape space of truly urban scale, deriving inspiration from the traditional Indian concept of congruency between nature, garden and utility.
Patrick Geddes' work in improving the slums of Edinburgh led to an invitation from Lord Pentland (then Governor of Madras) to travel to India to advise on emerging urban planning issues, in particular, how to mediate between the need for public improvement and respect for existing social standards.
Between 1915 and 1919 Patrick Geddes wrote a series of "exhaustive town planning reports" on at least 18 Indian cities, a selection of which has been collected together in Jacqueline Tyrwhitt's Patrick Geddes in India (1947).
For more information on the project, visit: www.nizamuddinrenewal.org or www.facebook.com/NizamuddinRenewal