04/12/13 18:53
Severe weather warning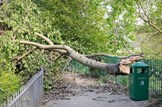 Wind and flood disruption expected
The public across Scotland are tonight being warned of potential disruption over the next 24-36 hours due to severe winter gales and the potential of flooding on east and west coasts.
The Met Office have issued an Amber 'Be Prepared' warning covering most parts of Scotland, effective from 0200 hours until 1600 hours on Thursday, with the worst of the impacts expected in the period up to mid-day, with wind speeds likely to exceed 80mph in some places.
The Scottish Environment Protection Agency (SEPA) have also issued a number of Flood Alerts and Warnings, with a focus on potential coastal flooding on east and west coasts through Thursday and into Friday.
The Scottish Government's Resilience operation has been activated to liaise with authorities and organisations across the country and to co-ordinate any activity as required. Ministers are being kept fully briefed on developments.
The forecast conditions are already having an impact on transport and travel for Thursday morning.
Police Scotland have tonight advised drivers that from early tomorrow morning, and throughout the rush-hour period (0700-0900 hours), the conditions for road travel are likely to be extremely poor and there is a high risk of disruption for road journeys across Scotland, particularly in the west.
Police have warned drivers that if they do travel, they are likely to experience significant delays due to high winds and driving rain creating surface water and an increased risk of flash flooding on many roads.
Transport Scotland, whose Multi-Agency Control Centre will be operating overnight, have said that the forecast windspeeds could have a particular impact on Scotland's major bridges, which may result in them being closed to traffic for periods when the highest gusts are experienced in the run up to and during the morning peak period.
Network Rail, who will have hundreds of engineers out across the network ready to react to problems and clear fallen trees, have tonight told commuters that service levels and speeds will being reduced as a safety precaution when winds are at their peak. Passengers should check before they travel, as some routes and stations will not be served tomorrow until the worst of the gale force winds have passed.
Ferry operator Caledonian MacBrayne have said that the forecast is looking particularly severe for the morning and are advising all ferry travellers to take this into account when planning journeys in the next few days.
Air passengers are advised to check with airports and airlines before travelling.
Power companies are also monitoring the forecasts carefully and have engineers ready to take action across the country to deal with any power line issues or general supply disruption.
Local Authorities across the country have in place their usual arrangements for dealing with severe weather, working with relevant partners.
Scottish Government Transport Minister Keith Brown said tonight: "The Scottish Government and Transport Scotland are working closely with transport operators, the Met office, Police Scotland, SEPA and many other agencies and organisations to make sure that the most useful and up to date information is given to those who need it most. We have held a number of meetings with key partners already today and both the Scottish Government Resilience Room (SGoRR) and Transport Scotland's multi-agency response team (MART) will be operational from tonight.
"I would urge the travelling public to consider the conditions before they set-off on their journeys. Indications are that bridges across the country will be affected by the strong winds and closures are expected during the morning peak period. People should listen to radio reports or visit the Traffic Scotland website or twitter feed, and carefully consider police advice. Trains and ferries will also be disrupted and operator websites will have the latest information."
OTHER QUOTES
Superintendent Iain Murray, Head of Police Scotland's Road Policing said: "Drivers are advised to plan their journeys before setting out in the morning by checking media and public information sites for early indications of road closures and other incidents on the network. High winds and driving rain will make driving conditions difficult, particularly on open roads and over bridges. If you must travel during rush hour, allow plenty of time for your journey and drive with care to the road conditions using dipped headlights and keeping a safe braking distance from the vehicles travelling ahead of you. Additional police road patrols will be on the network across Scotland and if you do break down or need police assistance, call our national non-emergency number 101."
David Dickson, Network Rail area director for the west of Scotland, said: "We will be monitoring conditions on the ground closely throughout the night and into the morning. We have teams in place across the country to react quickly to any damage caused by the weather and will keep as much of the network open as is possible. However, the extreme nature of the conditions, and the potential impact they can have on our infrastructure, means that speed restrictions and other measures are necessary in the interests of safety. We are working closely with the train operators and other industry partners to do everything we can to reduce disruption, while also operating a safe network for passengers."
A spokesman for ferry operator Caledonian MacBrayne said: "We have had a very stormy start to the winter with many services affected by high winds in the last few weeks. The forecast for Thursday morning is looking particularly severe and we would advise ferry travellers to take this into account when planning journeys in the next few days. We are grateful for the patience and understanding of all our customers at this time."
Graeme Forrester, Senior Met Office Advisor, said: "We are working closely with emergency responders in Scotland, including our partners within Scottish Government and Transport Scotland, to ensure that everyone can prepare for the expected severe weather. We currently have an advisor sitting within the Control Centre at South Queensferry who is able to give up-to-date advice to the team in order to keep Scotland's roads as clear and as safe as possible during this relatively short-lived period of severe weather. The worst of the conditions are forecast in the Highlands and northern Scotland with winds of up to 80mph possible. However, parts of the central belt will also be affected by some very strong winds during Thursday morning's rush hour period."
Marc Becker, Hydrology Duty Manager for the Scottish Environment Protection Agency (SEPA) said: "Heavy rain will cross the country early on Thursday accompanied by gale or severe gale force westerly winds. The gale force winds will become north-westerly during Thursday evening before easing on Friday. A combination of high tides and storm surge will result in a risk of flooding in some coastal communities along the Firth of Forth, Fife, East Lothian and Scottish Borders coast during Thursday afternoon. There may also be wave and spray overtopping across North West Scotland, the Western Isles, Orkney and along the west coast (as far south as Oban) during the early part of Thursday morning which could affect coastal properties and roads. SEPA will continue to monitor the situation and would encourage the public to check the SEPA website for active flood alerts or call SEPA's Floodline on 0845 988 1188, for the most up to date information on their area."
Notes to editors
GENERAL TRAVEL ADVICE
Congestion caused by vehicles may restrict emergency, recovery or winter maintenance vehicles from providing essential assistance or from clearing roads
Drivers of HGVs should drive with extreme caution and be aware that you may be requested to park at a suitable position by the police
Winter driving is a question of common sense and drivers should ask themselves if they really need to travel when conditions are poor. No-one should ever place themselves at risk on the road and it may be worth considering postponing your journey or making alternative arrangements such as delaying travel until conditions improve or using public transport
If you are travelling on the roads you should ensure you and your vehicle are adequately prepared for the conditions, making sure you have sufficient fuel and supplies such as warm clothing, food and water in the event you are delayed for several hours. Charge your mobile phone and plan your route as well as alternative routes
Listen to media broadcasts, especially local radio, and visit the Traffic Scotland website