19/12/13 10:00
Source local for your festive feast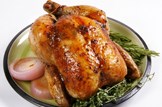 Scotland home to some of the world's finest food and drink.
Christmas cooks are being urged to make the most of Scotland's fantastic natural larder this festive season.
Scotland produces some of the best quality food and drink to be found anywhere in the world, from succulent seafood that is in demand across the globe, to prime Scotch Beef PGI and the finest in-season fruit and vegetables - including festive favourite brussel sprouts.
Scotland's Food Minister Richard Lochhead said:
"Scotland is home to an amazing array of top quality food and drink and Christmas is the perfect time to enjoy our outstanding produce.
"Festive favourites such as smoked salmon and a traditional Christmas roast with all the trimmings can easily be made from fresh, seasonal ingredients produced right here on our doorstep.
"Scotland now has 13 products which have been awarded Protected Geographical Indication (PGI) status by Europe, a guarantee that customers are buying a genuine, premium product renowned for its distinct taste and unique production methods. Orkney Scottish Island Cheddar is the most recent product to be awarded this status, joining the likes of Stornoway Black Pudding, Arbroath Smokies and Scotch Beef and Scotch Lamb.
"Scottish food and drink is in demand all over the world because of its exceptional quality and impeccable provenance and my ambition is to get more Scots eating fresh, eating seasonal and eating local.
"Fresh food is tastier, and often cheaper, when eaten in season and buying local is a great way to support our food and drink industry meet its ambitious growth targets. My message is simple – eat Scottish this festive season."
Notes to editors
The Greener Scotland Recipe Finder tool, which allows people to search for recipes using seasonal ingredients and also use up leftovers (including that Christmas turkey), is available at: http://www.greenerscotland.org/eating-greener/recipe-finder
This is also available to download as a mobile phone app by searching 'Greener Scotland' in the App Store.

Scottish foods which currently hold PFN status include: Orkney Scottish Island Cheddar, Stornoway Black Pudding, Shetland Lamb, Orkney Beef, Orkney Lamb, Scottish Farmed Salmon, Scottish Wild Salmon, Scotch Lamb, Scotch Beef, Arbroath Smokie, Native Shetland Wool, Teviotdale Cheese (not in production) and Bonchester Cheese (not in production).